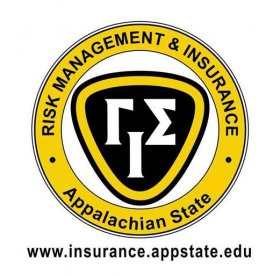 Appalachian State University is a Rho Chapter of Gamma Iota Sigma (GIS), which was established in 1979. Through the GIS Society we actively participate in Gamma Iota Sigma events, and hosted their 2013 International Conference.
GIS is a professional collegiate insurance organization sponsored by the Brantley Center. The purpose of the organization is to promote, encourage, and sustain student interest in insurance, risk management, and actuarial science as a profession; to encourage high moral and scholastic attainments; and to facilitate the interaction and cooperation of educational institutions, industry, and professional organizations by fostering research, scholarship, and improved public relations.
Through regular meetings, guest speakers, and industry events, the Society provides students with real-world exposure, networking, and the opportunity to build lasting friendships with classmates. Special industry-sponsored events such as job shadow days and Insurance Career Fairs are held each semester to acquaint the students with industry practices and foster industry relationships.
Membership
Membership in GIS not only exposes students to travel opportunities, but also makes the student eligible to submit a resume for inclusion in the departmental resume book. Members must re-register each semester and include a membership fee of $35, payable to AppState GIS. While the organization is open to all majors, students are encouraged to join GIS as soon as they become departmental majors. Students interested in joining GIS should contact the faculty advisor.
Complete 2018-19 GIS Membership Application Here (PDF, 648 KB)
Faculty Advisor: Dr. Karen Epermanis
2019-2020 Leadership Team Positions
President - Harrison Cameron
Schedule, prepare agenda, and host weekly Monday leadership meetings
Oversee all officers and their duties
Assess the need for committees and appoint as needed
Introduce programs at general membership meetings (speakers, etc.)
Serve as student representative on BRIC Advisory Board
Alumni Relations—communicate with recent alumni
Coordinate Recruitment Dinner
Sign new member certificates
Executive Vice President - Senior - Devon Goolsby
Attend weekly executive meetings and as many GIS events as possible
Submit monthly GIS reports to Grand Chapter
Assist in presenting to BRIC Advisory Board
Plan bi-annual leadership retreats
Manage AppSync Account
Keep track of event participation
Manage google calendar
Assist President in duties/fill in in President's absence
Executive Vice President - Junior - Benjamin Todd
Attend weekly executive meetings and as many GIS events as possible
Write thank you cards and prepare gifts for speakers
Assist in presenting to BRIC Advisory Board
Plan bi-annual leadership retreats
Oversee committee chairs
Coordinate filming of "roll call" for international conference
Assist President in duties/fill in in President's absence
Learn how to fulfill the role of President
Director of Administration - Charles Fisher
Attend weekly executive meetings and as many GIS events as possible
Take minutes at all leadership team meetings
Manage chapter email account
Send out email reminders to GIS students
Sign new member certificates
Director of Finance - Ellen Collins
Attend weekly executive meetings and as many GIS events as possible
Monitor finances of RMI and report expenditures
Make bank deposits
Balance checking account
Maintain spreadsheet of financial transactions and track by categories
Responsible for ordering name tags
Director of Industry and Alumni Relations - Kimberly Aguirre
Create a professional newsletter to update GIS Alumni of current happenings within the group to be sent out at least once a semester
Create a Gamma Iota Sigma Alumni Spotlight on the website and coordinate with the director(s) of marketing to feature Alumni and collect 'Alumni Profiles'
Maintain document with Gamma Alumni information including employer as well as a non-appstate email address
Work with Gamma Leadership Team and Advisers to brainstorm new initiatives to engage Gamma Alumni and connect current members with alumni for career networking, post graduate opportunities, etc.
Assist Greg in planning any events surrounding homecoming, career fairs, etc. that include alumni and industry representative as well as create new events
Director(s) of Marketing - Jason Garfinkle & Roberto Sibrian
Attend weekly executive meetings and as many GIS events as possible
Maintain social media sites: Instagram and Twitter
Take pictures at all GIS events
Create articles for WCOB and GIS Grand Chapter
Design and order yearly t-shirt with assistance from President
Director(s) of Community Service - Jordan Bryant & Graham Purcell
Attend weekly executive meetings and as many GIS events as possible
Lead Community Service Committee
Plan Adopt-A-Street cleanup each semester
Coordinate GIS Week of Service and Community Matters Involvement
Plan other community service events as see fit (Operation Christmas Child, Polar Plunge, Dance Marathon, etc.)
Work with VP of Admin. to create event sign-ups as appropriate
Director(s) of Events - Devon Wormser & Bailey Siner
Attend weekly executive meetings and as many GIS events as possible
Oversee monthly Brantley Brunches by scheduling and managing food orders
Coordinate at least one social event each semester
Assist with planning other events that may occur throughout the year
Director of Club Relations - Lawson Benfield
Attend weekly executive meetings and as many GIS events as possible
Act as liaison between other on-campus organizations
Coordinate planning as well as participation efforts with other on campus organizations' events (especially COB organizations, but others as well) (ex. Ambassadors canned food drive, Dance Marathon, etc.)
Serve as President's Round Table representative
Ensure we stay current with club council (attend CORE Conference and Town Hall each semester)
Assist with planning on-campus events
Director of Membership - Caleb Drye
Attend weekly executive meetings and as many GIS events as possible
Coordinate speaking to RMI classes about upcoming GIS events
Work with President to coordinate Open House and RMI dinners
Coordinate shifts at WCOB Club Expo
Reach out to underclassmen who may be in interested in RMI/GIS and develop creative ways to market to students
Submit applications and register all new and returning GIS members
Maintain GIS membership records, work with Senior VP to include participation in these records
Actuarial Science Liaison - Gina Bixby
Attend weekly executive meetings and as many GIS events as possible
Foster and grow relationship with Actuarial Science majors
Provide updates about Actuarial Science club events and invite GIS students
Promote GIS to actuarial science majors and send out email reminders
Visit Actuarial Classes with announcements when available
Employee Benefits Liaison - Dalton Adams
Attend weekly executive meetings and as many GIS events as possible
Foster and grow relationship with Employee Benefits minors
Work to provide Employee Benefits resources to students
Be an active voice and assist in growing the program
Inclusive Excellence Liaison - Gilberto Ramirez-Hernendez & William Chisholm
Attend weekly executive meetings and as many GIS events as possible
Foster and grow relationship with students of diverse backgrounds and encourage considering RMI as a major
Assist Brantley Center with developing best practices to promote an inclusive environment for all RMI students
Act as a liaison to Walker College of Business Diversity Advisory Team
Act as liaison between on-campus Multicultural Student Organizations and Inclusive Excellence programs
Lead GammaSAID initiatives on campus, including unique week
Consider becoming a part of the national chapter GammaSAID committee