The Brantley Risk & Insurance Center is delighted at the opportunity to expand its partnership with Acrisure's Wholesale Group, including Founders Professional & Appalachian Underwriters, along with Acrisure Re. These groups are part of Acrisure, which is the fifth-largest insurance broker in the world. The group will be joining the Brantley Risk & Insurance Center as Strategic Partners and sponsoring the 2023 Bermuda study abroad trip, a vital capstone experiential learning opportunity for risk management students at Appalachian State.
This commitment builds on the organizations' prior support of and involvement with the Brantley Risk & Insurance Center. Founders Professional joined as a Brantley Strategic Partner in the 2022 calendar year, the same year President and CEO Robb Williams joined the Brantley Risk & Insurance Board of Advisors.
Founders Professional, Appalachian Underwriters, and Acrisure Re have also participated in various student enrichment programs, ranging from presenting to student groups on academic topics, to participating in bi-annual career fairs as sponsors, to hosting the Building Insurance Talent program in NYC. The organizations have not only prepared Appalachian students for their futures in the (re)insurance industry–they've also hired them! Founders Professional has recently hired three graduates (Sara Zacharias, Carolyn Coldiron, and Jacob Cantrell) and taken on three additional students (Nate Chapman, Lauren Broadway, and Ford Brictson) as interns. Appalachian Underwriters has also recently hired upcoming graduate Andrew Vandenberg while rising senior Zeke Putnam is traveling to NYC to intern with Acrisure Re. This professional engagement will likely only grow with Appalachian Underwriters and Founders Professional work to open a new, state-of-the-art office just blocks from Appalachian State, the Walker College of Business, and downtown Boone. Here, they hope to house many Appalachian interns and graduates, providing opportunities for students to begin their careers locally as well as nationally in one of the organization's 30+ MGA/MGU, wholesale or reinsurance offices.
When asked about the partnership, the group said, "We are very excited to be key partners with the Brantley Center. Through this partnership, we are providing financial resources that will allow students to gain invaluable life and professional experience through international travel. Additionally, we are committed to sponsoring high-value internships and hiring top students to begin their careers with us in many areas including underwriting, broking, marketing, and actuarial science."
Thank you to these outstanding organizations for their support!
You can see the photo album from the Bermuda 2019 Study Abroad program here.
You can learn more about the Brantley Center's experiential learning opportunities here.
You can learn more about the Brantley Risk & Insurance Center's Strategic Partners program here.
About the Brantley Risk & Insurance Center
App State maintains the sixth-largest insurance program nationally and has been ranked second in the nation by AM Best, the world's largest credit rating agency specializing in the insurance industry.
The Brantley Center enhances the academic experience by providing space and staff to assist students interested in the RMI program with networking, job placement, and faculty engagement. It provides students with opportunities for scholarships, international and domestic travel, and professional designation and licensing programs. The center brings industry leaders to classrooms, fosters research and faculty development, assists the insurance industry with continuing education programs, and helps educate the public about the insurance industry.
Learn more at https://insurance.appstate.edu.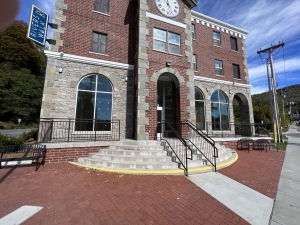 Tags: