The Building Insurance Talent cohort is a group of diverse students from various backgrounds and majors who come together to learn more about opportunities in the insurance sector. The students participated in 4 "lunch-and-learn" sessions focused on the insurance industry, and also travel to NYC to meet several insurance organizations in-person. The program was facilitated by Brantley Center Associate Director Lacy Chesnutt.
When the group traveled to NYC over Fall Break, they were met with great weather and exciting adventures. The students had the opportunity to explore Central park, visit the Metropolitan Museum of Art, and even saw a Broadway show, "Wicked"! On Monday, the group traveled to three different NYC insurance organizations: AmWINS, AcrisureRe, and Travelers. Each organization welcomed the group and treated them to a panel of speakers who engaged the students regarding their path into the insurance industry as well as different opportunities within the organization, helping students to better understand how their individual skills might fit best into this vast industry. Thank you to these NYC hosts for their incredible hospitality!
Upon their return, studnets were connected with many of the Brantley Risk & Insurance Center's other resources like scholarships, job and internship opportunities, resume and interview support, mentorship, and more. The Brantley Risk & Insurance is grateful to Blue Cross and Blue Shield of North Carolina for their financial support of this program, as well as the Center's other diversity and equity initiatives.
You can see additional photos from this impactful trip here: https://photos.app.goo.gl/2z9sPUZ2tC58R9ek6
About the Brantley Risk & Insurance Center
App State maintains the sixth largest insurance program nationally, and has been ranked second in the nation by AM Best, the world's largest credit rating agency specializing in the insurance industry.
The Brantley Center enhances the academic experience by providing space and staff to assist students interested in the RMI program with networking, job placement and faculty engagement. It provides students opportunities for scholarship, international and domestic travel, and professional designation and licensing programs. The center brings industry leaders to classrooms, fosters research and faculty development, assists the insurance industry with continuing education programs and helps educate the public about the insurance industry.
Learn more at https://insurance.appstate.edu.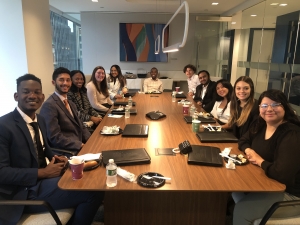 Tags: