Granite Insurance Agency, Penn National Insurance and Selective Insurance recently joined the Appalachian State "Strategic Partners" program through the University's Brantley Risk & Insurance Center, shared Managing Director Dr. David Marlett. This brings the current number of Brantley Center Strategic Partners to twenty. See the complete Strategic Partners here: https://insurance.appstate.edu/strategic-partners .
Annual financial investments from the Strategic Partners help the faculty and staff of the Brantley Center prepare Risk Management & Insurance (RMI) majors to become industry leaders through extra-curricular activities, networking guidance and "soft skills" that complement the rigorous academic coursework.
The Independent Insurance Agents of North Carolina (IIANC) established the Brantley Risk & Insurance Center at Appalachian (AppState) in October 1988, with an initial gift to support the RMI majors within the Walker College of Business. Since then, the Brantley Center has grown to serve as the main industry connection for more than 230 current Risk Management & Insurance majors at AppState.
"Thanks to the involvement by our Strategic Partners, we have been able to successfully implement programs such as the Summit Certification, Inclusive Excellence and Women in Financial Services. We continue to support experiential learning opportunities for our students on campus, regionally and internationally with study abroad experiences to London and Bermuda," said Dr. Marlett.
The Brantley Center's Strategic Partners program was initiated in 2013, as a means to further engage AppState RMI majors to the industry through experiential learning and travel opportunities, all of which required private funding. Many of the Strategic Partner organizations have representatives who also serve on the Center's Board of Advisors, including the three newest from Granite Insurance, Selective Insurance and Penn National Insurance.

Cameron Annas, Vice President of Business Development for Granite Insurance Agency shared why his agency recently joined the Strategic Partners program. "When it comes to investing in and developing future talent and leaders at Granite Insurance, partnering with AppState and their Strategic Partners program was a no-brainer. The RMI program has been a huge cornerstone to our talent pipeline that we have developed and will continue to be one of the most important aspects of our continued success," added Annas.

Wesley Riley, Vice President and Southern Region Field Operations Manager for Selective Insurance shared an interesting story about the day his now-Mentor spoke to his class at AppState. "While attending Appalachian State as a Senior nineteen years ago, I had the privilege of listening to a guest lecturer from Selective Insurance that ultimately helped shape the rest of my career. That day after hearing from Ryan Miller (now Senior Vice President, Regional Manager of the Southern Region), someone who is still my mentor at Selective to this day, I knew that I wanted to go and work for Selective Insurance upon graduation. It's come full circle for me today as a Regional Vice President of Field Operations for Selective and now being able to help build upon the company's Strategic Partnership with Appalachian State by sitting on the board and helping to facilitate Selective's Agency Management Collegiate Competition with the students," said Riley. "Each time I have an experience with Appalachian, I think back to 19 years ago when I was in that seat, and how lucky I was that Selective took the time to come to Appalachian to talk to us about the Agency Management Specialist position at Selective. My hope is to make a difference in the student's career paths the way that interaction had an impact on me personally and professionally," Riley said.
Jonathan Dillon, Regional Vice President for Penn National Insurance shared why they joined the Brantley Center's Strategic Partners. "After several years of recruiting and engaging on campus with students in the RMI program at Appalachian, it became very clear that the quality of the students and education were exactly what we were looking for in our new company employees at Penn National Insurance," said Dillon. "A key pillar of our corporate strategic plan is talent development, which includes recruiting, challenging, developing and promoting top talent. The Brantley Risk and Insurance Center at AppState does an outstanding job of continuing to prepare the next generation of talent with graduates who are very well educated, informed and prepared for a career in the insurance and risk management industry, and therefore a natural fit for Penn National Insurance to support as a Strategic Partner."
About the Brantley Risk & Insurance Center
The Brantley Risk and Insurance Center in Appalachian State University's Walker College of Business enhances the academic experience by providing space and staff to assist risk management and insurance majors with networking, job placement preparation and contact with faculty members outside the classroom. It provides students opportunities to participate in professional designation and licensing programs, and invites industry leaders to participate in classes and speak to student organizations. It also fosters research and faculty development, assists the insurance industry in the design and delivery of continuing education programs and helps educate the public about the insurance industry. Learn more at https://insurance.appstate.edu
Appalachian's Risk Management and Insurance Program is the sixth largest in the country according to Business Insurance magazine. The college's Brantley Risk and Insurance Center, founded in 1988 with support from the Independent Insurance Agents of North Carolina, supports research and faculty development, assists the insurance industry in the design and delivery of training and continuing education programs, and facilitates interaction between students, faculty and the professionals in the insurance industry. Appalachian is designated a Global Center of Insurance Excellence by the International Insurance Society. For more information about the Center, visit www.insurance.appstate.edu .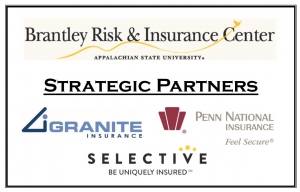 Tags: