After a several-year hiatus due to COVID-19, Appalachian State insurance students are finally able to return to traveling to London and Bermuda with the International Insurance Markets course. Led by Dr. David Marlett and Professor Austin Eggers, the London trip took place over spring break. Funded by the North Carolina Surplus Lines Association (NCSLA), students have had the chance to visit Lloyd's and visit numerous insurance organizations thus far like Acrisure, Gallagher, and Liberty Mutual Reinsurance. In early May, another group of students will have the opportunity to see the reinsurance markets first-hand while visiting Bermuda, a trip sponsored by Acrisure.
About the Brantley Risk & Insurance Center
App State maintains the sixth-largest insurance program nationally and has been ranked second in the nation by AM Best, the world's largest credit rating agency specializing in the insurance industry.
The Brantley Center enhances the academic experience by providing space and staff to assist students interested in the RMI program with networking, job placement, and faculty engagement. It provides students with opportunities for scholarships, international and domestic travel, and professional designation and licensing programs. The center brings industry leaders to classrooms, fosters research and faculty development, assists the insurance industry with continuing education programs, and helps educate the public about the insurance industry.
Learn more at https://insurance.appstate.edu/.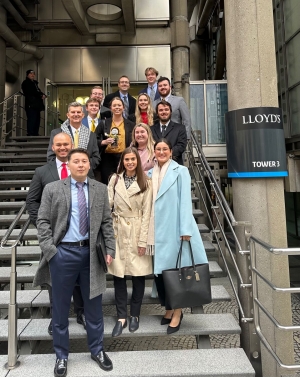 Tags: