Career Planning & Resumes
Career Paths & Resume Preparation
There are many career options for students who are preparing to graduate with a degree in Risk Management and Insurance. Some potential careers in the field are: agents, brokers, claims adjusters, financial planners, loss control, actuaries, employee benefits positions, risk managers and underwriters. Click here: https://www.insuremypath.org/ for a great resource to explore the various industry careers.
Visit the Walker College of Business Career Services page for detailed career planning information.
Use this resource as you prepare your one-page college resume: https://businesscareers.appstate.edu/career-coaching .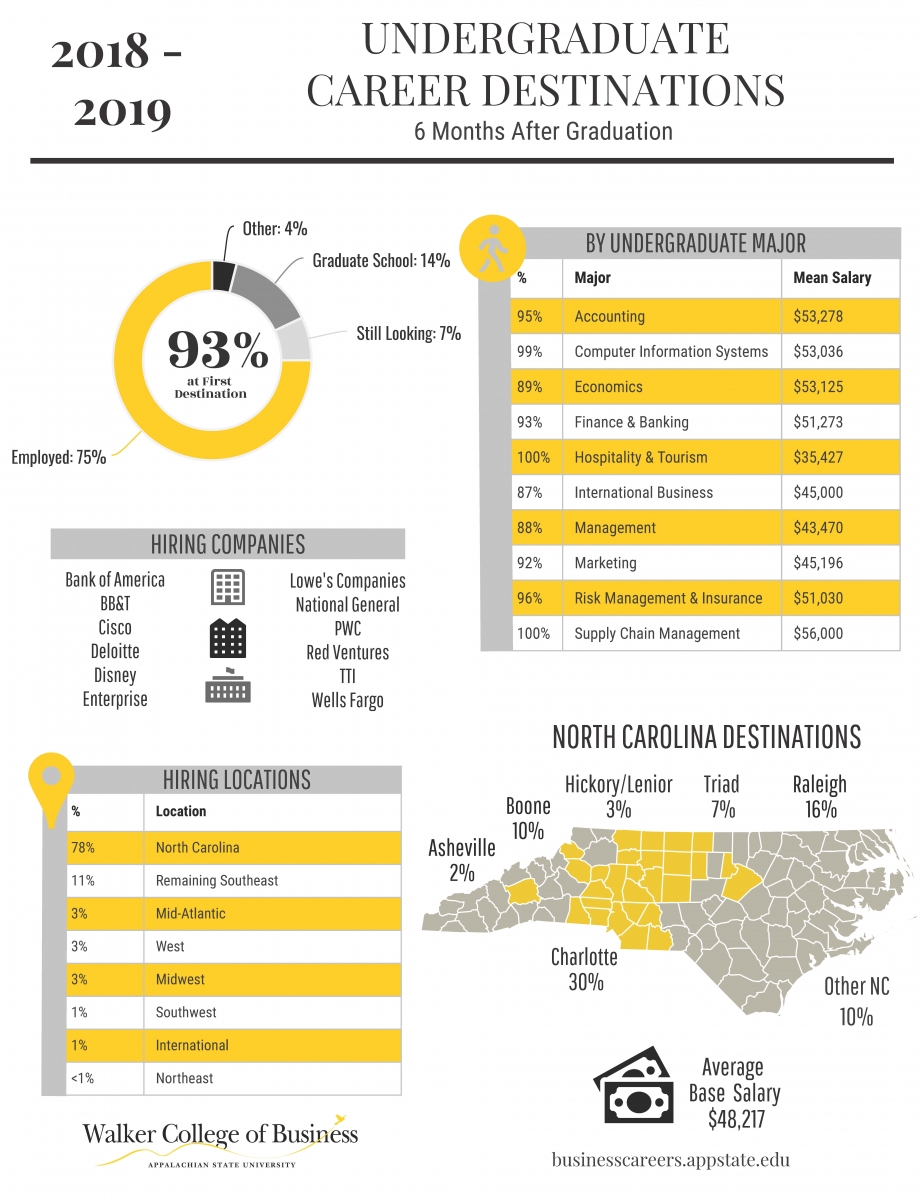 Historical WCOB Placement Data:
https://businesscareers.appstate.edu/firstdestination
Gamma Iota Sigma Job & Internships Board
AppState students may review and apply for national job and internship postings shared on the Gamma Iota Sigma job board here.
Students should also check for internships and financial assistance for internships here.
Business Cards
Click here for a sample business card template (PDF, 26 KB) that you may take to local printshops for your business cards. Business cards are recommended for Juniors & Seniors as they look for internships and professional positions.
Employers
For employers, there are several options for listing job and internship opportunities. To target our current students and alumni, post your positions on the AppState Handshake electronic job board here.
Employers interested in offering internships to AppState RMI students, please contact Greg Langdon, langdongm@appstate.edu. to request the new "Agent's Guide for Internships" pdf.
Alumni
If you are seeking alumni with some professional experience for your job opening, you can sign up for Handshake service through our Career Development Center. Both current students and alumni are able to view job postings through this system. To set up a Handshake account to add postings, contact the Career Development Center at 828-262-2180
Internships
Students are encouraged to take advantage of internship opportunities after their Sophomore and Junior years. Internships are typically in the summer and last 8 - 10 weeks. Internships should be designed to expose the student to various aspects of the employer's operations. The employer receives assistance with special needs or projects, as well as the opportunity to take a risk-free look at a potential future employee. The student gains valuable work experience which enhances classroom participation upon return to campus.
Please contact Greg Langdon (langdongm@appstate.edu) in the Brantley Center if your company has internship opportunities.
Summer Internships Photo Gallery
Careers
Insurance is everywhere and offers careers in just about every area of interest.
If you have a passion for private investigating or exploring the underlying causes of "unfortunate incidents," a career in claims may be of interest to you:
The role of an insurance claims broker is to deal with all aspects of insurance claims on behalf of clients. A claim usually happens after events such as fire, flood, theft, accident or illness. If a client is insured, they receive compensation from the insurance company. The insurance claims broker deals with the whole process from first notice to final payment. This can be a long and complex negotiation, in order to decide who is responsible to pay and how much will be paid.
If you are all about planning now to avoid problems later, put those skills to use in risk management or loss prevention:
As a loss control specialist your job would be to help keep accident and losses to a minimum. You would visit factories, shop floors and businesses to identify potential hazards and help to eliminate them. In the health insurance area you might work with an organization to promote preventive health care in the workplace or to limit exposure to certain types of ailments.
A risk manager is responsible for identifying risks and determining the most effective ways to deal with the risks in order to protect a company against accidental losses. Losses could result from events such as product or professional services liability, property damage, or employee dishonesty. Risk management personnel develop, implement and enforce rules and procedures designed to mitigate these risks.
If you hate the idea of having a job where you'll be stuck behind a desk and long to set your own schedule away from an office, become an adjuster or agent/broker:
Adjusters are specialists who investigate complex claims on behalf of insurance companies and help policyholders restore their property to full working order. They investigate at the scene of an incident, establish the causes of the 'loss' (damage or destruction of property) and whether it is covered by the insurance policy. They then write reports for the insurer, assessing the validity of the claim and recommending appropriate payment.
Agents/brokers are primarily responsible for selling and/or placing insurance. Agents/brokers act as the go-between for customers and insurance companies. Agents/brokers also may provide the customer with additional services such as helping customers identify the risks they face and how best to deal with that risk. They play a very important role in the insurance industry because they are the first contact that most customers have with the industry when applying for insurance as well as when they have a claim.
If you love to manipulate numbers, you can follow your bliss to a career in underwriting:
Insurance underwriters use historical numerical data to decide if applications for insurance coverage should be accepted and if so, what the terms of that acceptance are. They assess a risk according to the likelihood of a claim being made by evaluating a number of factors and asking for detailed information from prospective clients.