Ten Appalachian State University College of Business female students and two Professors traveled to New York City November 7-11 as part of the "Women in Financial Services" initiative. While in New York City the group interacted with management team members from several major financial institutions including Allied World Assurance Corporation, AXA XL, Credit Suisse and Northwestern Mutual's LearnVest subsidiary. Leading the trip were Finance, Banking and Insurance faculty members Brady Hadley (Finance & Banking) and Lori Medders (Risk Management & Insurance). They have been collaborating to encourage college females to consider careers in financial services.

(L-R: Dr. Lori Medders, Megan Moreno, Cassidy Giroux, Katie Cole, Jordan Bryant, Bailey Siner, Susann Rivira, Allison Bowers, Baylee O'Connor, Kimberly Aguirre, Annie LeRoy and Dr. Brandy Hadley)
The Women in Financial Services Initiative is a collaboration between the Brantley Risk & Insurance Center and the Department of Finance, Banking & Insurance that works to identify and develop high potential female Appalachian students for careers in financial services. Hadley and Medders have coordinated Women in Finance industry panels, provided finance and insurance workshops for the campus student community, and exposed the women of Appalachian to Financial Services opportunities, both in and outside of North Carolina. The initiative was originally begun in Summer-Fall, 2017 in response to a noticeable reduction in the percentage of Walker College of Business women choosing to take upper level Finance and Risk Management courses. In 2018, fewer than 20% of the graduating class in these majors are women.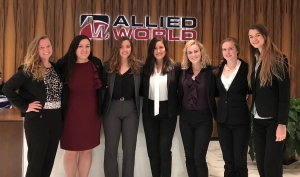 Tags: