Julie Groves, Director of Risk Services at Wake Forest and University Risk Management & Insurance Associatia (URMIA) Board Member, visited the Walker College of Business earlier this week to participate in the GIS club's last Speaker event of the semester. Groves presented on her role in risk management and demonstrated several scenarios that she could encounter in her role on any given day. This presentation helped students to better understand the career path of a risk manager, especially within a university setting. Groves was introduced by Omar Gonzalez, Actuarial Science major and Masters of Data Analytics candidate at Appalachian State, who was familiar with the URMIA organization from his participation in the AppRIMI internship.
About the Brantley Risk & Insurance Center
App State maintains the sixth largest insurance program nationally, and has been ranked second in the nation by AM Best, the world's largest credit rating agency specializing in the insurance industry.
The Brantley Center enhances the academic experience by providing space and staff to assist students interested in the RMI program with networking, job placement and faculty engagement. It provides students opportunities for scholarship, international and domestic travel, and professional designation and licensing programs. The center brings industry leaders to classrooms, fosters research and faculty development, assists the insurance industry with continuing education programs and helps educate the public about the insurance industry.
Learn more at https://insurance.appstate.edu.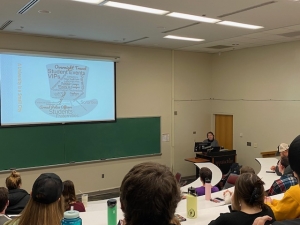 Tags: