This year, two Appalachian State students, Conrad Nelsen and Mark Pruitt, were selected as 2023 WSIA summer interns and scholarship winners. The program offers risk management students of the highest caliber across the country the opportunity to participate in quality paid internships in both the underwriting and brokerage sides of the surplus lines marketplace. Selected students travel to two different locations over the course of the nine-week opportunity and, upon completion of their internship, are awarded a $5,000 scholarship for the 2023-2024 academic year.
Nelsen is a double major in risk management and finance and is currently in his junior year. Nelson credits the mentorship of Brantley Center Managing Director, Dr. David Marlett, for his success: "Dr. Marlet was a huge inspiration for my aspiration for this internship. This opportunity will benefit me tremendously in my future endeavors in the wholesale and surplus industry. I am excited to learn from many industry experts and build many connections. I can't wait to get started!" Additionally, Nelson is the Treasurer of his fraternity, Phi Sigma Kappa, and loves cheering on AppState during football season.
Mark Pruitt, the second winner, is also a risk management and insurance and finance double major in his junior year. Pruitt was thrilled for the opportunity, saying, "I am really excited about this opportunity with WSIA and am especially looking forward to diving into the E&S industry and learning all about the unique risks that people need to have insured. I am also excited about getting a chance to travel the country this summer and meet new people at the firms that I will intern with." Pruitt's passion for insurance carries over into his personal life as well - he even dressed up as Jake from State Farm for Halloween! Outside of school, Pruitt is highly involved with his church group.
About the Brantley Risk & Insurance Center
App State maintains the sixth largest insurance program nationally, and has been ranked second in the nation by AM Best, the world's largest credit rating agency specializing in the insurance industry.
The Brantley Center enhances the academic experience by providing space and staff to assist students interested in the RMI program with networking, job placement and faculty engagement. It provides students opportunities for scholarship, international and domestic travel, and professional designation and licensing programs. The center brings industry leaders to classrooms, fosters research and faculty development, assists the insurance industry with continuing education programs and helps educate the public about the insurance industry.
Learn more at https://insurance.appstate.edu.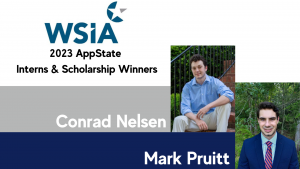 Tags: