Susann Rivera is excited to apply her risk management and insurance knowledge from App State to her first job as an Underwriting International Graduate Trainee. While pursuing a degree in finance and banking, she learned about the degree in risk management and insurance and found that it was engaging and meaningful.
When asked about how she initially got involved with RMI, Susann explained that some professors in the department enlightened her about the major. "Dr. Medders and Dr. Hadley invited myself and a few other women in the Walker College of Business to NYC to expose us to the finance and banking, risk management, and insurance sector because they saw it is a male dominated field and there was a need for more women to excel within it. After the trip, I was sold and changed my major as soon as I returned to Boone."
Susann then enrolled in a few RMI courses and immediately fell in love with the program. "My favorite class was "Intro to RMI" with Dr. Marlett. The class was engaging, informative, and overall interesting. I was able to apply information learned in class to everyday situations, which made the class all the more enticing. Dr. Marlett made all the difference in providing the meaningful experience to the introduction to the major of what is now going to be my profession."
She highlighted the impact Dr. Medders and Dr. Marlett had on her educational career. "Dr. Medders and Dr. Marlett truly made my experience within college meaningful and beneficial because they are the true embodiment of what all professors should model. Not only do they care for students academically but personally, they will go out of their way to ensure your success in all aspects of life and ensure you have all the tools and resources necessary. These professors are the first to learn who you are as a person, your needs, and advocate for you in any opportunity when presented!"
Throughout Susann's college career, she has been consistently named on the Deans and Chancellors list and named as a Dean's Club, CPCU Charlotte Chapter, Art Lyon RMI, Wayne L. Sumner, and Glenn W. Wilcox Sr. Scholar. She was also named as a Junior Marshal for academic excellence. She is member of Alpha Kappa Alpha Sorority, Incorporated serving as Vice President, Gamma Iota Sigma serving as the Director of Inclusive Excellence, Women of Walker, AppRISE applied risk management research team, and the Appalachian Student Ambassadors serving as Membership Logistics Coordinator. Susann had the honor to partake in the William R. Holland Fellowship (domestically) for a study abroad experience to present issues revolving around the fashion industry and the circular economy at the Shanghai Economic Forum but unfortunately was not able to travel abroad to China due to COVID-19. When asked what her greatest accomplishment was during school, Susann answered "my greatest accomplishment to date is being the first in my family to attend college and pursuing my passion in the insurance industry!"
After graduation, Susann will begin her career as a Facultative and Corporate, Casualty Programs Underwriting International Graduate Trainee at Munich Re in New York City. She looks forward to better understanding the reinsurance side of the industry and delving deeper into understanding the effects of reinsurance on a global scale. Susann hopes to be able to learn more about the protection gap of re/insurance and how I can be a catalyst in efforts to minimize them. She looks forward to applying her knowledge learned at Appalachian and seeing her efforts come to fruition.
The Brantley Center wishes Susann all the best in her career and looks forward to seeing all that she accomplishes.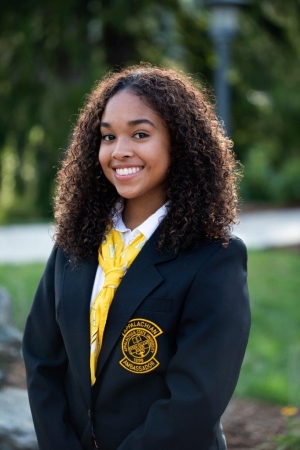 Tags: