Jake Schantz is a rising senior in the Risk Management and Insurance program. Jake holds an internship for this summer with United Producers Group, based out of Mount Pleasant, SC. United Producers Group is a general agency with experience in Group and Individual Benefits.
Jake finds that he enjoys the personable feeling of UPG, as the Mount Pleasant office is their newest addition to their company. The president, Jason Newman, is an Appalachian State alumnus and has been a great person to work with.
When asked about what opportunities for improvement and learning that he's had so far, Jake mentions a software that is used in their office. "I have done a lot of work through a software the agency uses called Employee Navigator. Basically, this website contains all the information concerning insurance plans, renewals, quotes, and licensing details for the companies who work with our agency. I have completed several different types of tasks on Employee Navigator such as building out new plans, verifying termination details of employees, evaluating if certain employees are eligible for benefits, deleting former employees or companies from the website and basically just 'cleaning up the software.'"
As to what he's gained from the experience so far, Jake said, "I have a better understanding of how the carrier, broker, the general agency, and the actual companies/clients all do business with each other. In most cases and in a simple explanation, the carrier pays the general agency to work with the brokers to bring their clients to sign under that carrier. I have also gained a lot of experience in Excel. It took a while to brush up on my Excel skills but, at this point, I am more than comfortable with it. I am excited to continue to learn over the next couple months!"
Good luck with the rest of your internship Jake, we look forward to your continued success.
About the Brantley Risk & Insurance Center
The Brantley Risk & Insurance Center enhances the academic experience of business students at Appalachian State University by providing space and staff to assist with networking, job placement preparation and contact with faculty members outside the classroom. It provides students opportunities to participate in professional designation and licensing programs and invites industry leaders to participate in classes and speak to student organizations. It also fosters research and faculty development, assists the insurance industry in the design and delivery of continuing education programs, and helps educate the public about the insurance industry. Learn more at https://insurance.appstate.edu.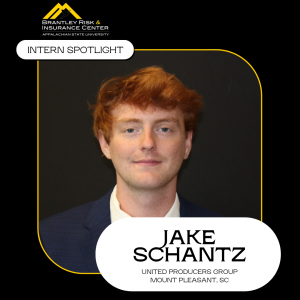 Tags: