Carolyn Coldiron is a rising senior majoring in risk management and insurance. Carolyn completed an internship this summer with Founders Professional, based out of St. Pete's, FL. Founders Professional is a national wholesale insurance brokerage focused exclusively on the placement of professional liability insurance.
At Founders Pro, Carolyn worked under different teams every couple of weeks to gain exposure to all the sectors of the company. Carolyn spoke about her experiences with the Healthcare team. "I really enjoyed the healthcare team, everyone was super helpful and I learned so much through shadowing the assistant brokers. The assistant brokers that I shadowed were Claire and Korina. I really liked working with them because they put emphasis on not only what we did, but WHY we did it".
When asked about what other tasks she worked on at her internship, Carolyn said "I also learned how to do things on my own such as clearances/declines, comparing binders and policies, and quoting. During the first week of the internship, I mostly just watched Claire and Korina work through their daily tasks and was introduced to many different people in the office. I had the chance to work with the head of operations for the office and learned how to use the systems that we used to complete all of our work, AIM and IR. I also independently compared binders and policies, and learned how to send out late notice payments."
Carolyn mentioned a fun work outing where she bonded with company employees - "I had the opportunity to attend the Tampa Bay Rays baseball game with people that we work with from Beazley. The game was awesome and it was great to be introduced to people from Beazley and people from Founders that I had not met yet."
Carolyn is so thankful for the internship experience and how it contributed to her professional growth.
About the Brantley Risk & Insurance Center
The Brantley Risk & Insurance Center enhances the academic experience of business students at Appalachian State University by providing space and staff to assist with networking, job placement preparation and contact with faculty members outside the classroom. It provides students opportunities to participate in professional designation and licensing programs and invites industry leaders to participate in classes and speak to student organizations. It also fosters research and faculty development, assists the insurance industry in the design and delivery of continuing education programs, and helps educate the public about the insurance industry. Learn more at https://insurance.appstate.edu.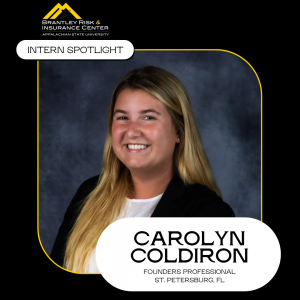 Tags: