The Brantley Risk & Insurance Center hosted its second annual fundraiser event at TopGolf in Charlotte, netting the non-profit organization over $55,000. Proceeds go to benefit insurance recruitment and development efforts for insurance students at Appalachian State. The event helps the Brantley Risk and Insurance Center to put on professional development activities, professional travel, and to recruit and prepare the next generation of insurance leaders.
The event's success is largely due to its sponsors. AmWINS was the event's peak sponsor and also contributed significantly to the logistics of the event. RT Specialty and Builders Mutual were the Gold level sponsors and Key Risk sponsored the event at the Black level. Risk Placement Services sponsored the Hole-in-One and a bay, and Congruity, Marsh McClennan, McGriff, Propel, and Zenith were all bay sponsors. The event drew 200 participants from across the Carolinas and Virginia for some friendly competition and networking to raise money for a great cause.
The 2024 event is scheduled for Thursday, August 8th and registration will open at the end of the year.
About the Brantley Risk & Insurance Center
App State maintains the sixth-largest insurance program nationally and has been ranked second in the nation by AM Best, the world's largest credit rating agency specializing in the insurance industry.
The Brantley Center enhances the academic experience by providing space and staff to assist students interested in the RMI program with networking, job placement, and faculty engagement. It provides students with opportunities for scholarships, international and domestic travel, and professional designation and licensing programs. The center brings industry leaders to classrooms, fosters research and faculty development, assists the insurance industry with continuing education programs, and helps educate the public about the insurance industry.
Learn more at https://insurance.appstate.edu.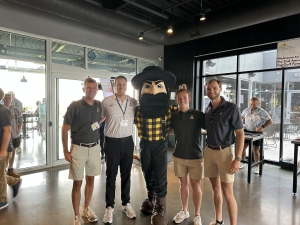 Tags: