Dubbed "King of Holmes" by the Watauga Democrat, Appalachian State risk management and insurance senior Jon Jon Millner secured the SoCon Conference title for his weight class on Saturday, his fourth straight conference title at Holmes Center. This accomplishment seals a 41-0 career record for the senior in SoCon duals and tournament matches, the highest undefeated win total in the league's modern history. Millner will continue on to complete in the NCAA Championships in Tulsa March 16-18. Will Formato, Appalachian State risk management and insurance graduate and current MBA student at Appalachian, also is a "ranked wrestlers with the best [chance] of receiving an at-large [bid]" according to the Watauga Democrat. These student athletes helped Appalachian secure a Conference win with 103 points, besting all others by a large margin.
In addition to his athletic success, Millner is also academically involved. Millner is part of the Appalacahian State RIMS Challenge Team led by Dr. Lori Medders. The team has been selected in the Top 8 and will move on to compete for the RIMS title in Atlanta in early May.
To read the original article, see the Watauga Democrat article here.
Photo by Andy McLean/App State Athletics.
About the Brantley Risk & Insurance Center
App State maintains the sixth-largest insurance program nationally and has been ranked second in the nation by AM Best, the world's largest credit rating agency specializing in the insurance industry.
The Brantley Center enhances the academic experience by providing space and staff to assist students interested in the RMI program with networking, job placement, and faculty engagement. It provides students with opportunities for scholarships, international and domestic travel, and professional designation and licensing programs. The center brings industry leaders to classrooms, fosters research and faculty development, assists the insurance industry with continuing education programs, and helps educate the public about the insurance industry.
Learn more at https://insurance.appstate.edu/.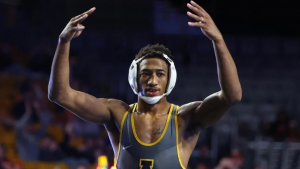 Tags: