Mercer visited the Appalachian State campus on Wednesday to speak on careers in employee benefits to a packed room as part of the GIS Speaker Series for the Fall 2022 semester. Joe Harten, Mercer Health Business Leader, and Cassidy Wygonik, Senior Health & Benefits Consulting Analyst, visited the RMI club from their home office in Charlotte. The duo spoke on Mercer's operations and the challenges and benefits of working in the burgeoning employee benefits space.
Appalachian State RMI major and Employee Benefits Liason for the GIS Rho Chapter, Rick Orlicki, kicked off the night's events and provided introductions to the speakers and topic. Rick is a May 2022 graduate and, following graduation, will be joining the Charlotte Mercer office as a benefits analyst.
The GIS Rho Chapter has one more guest speaker from URMIA before the Fall 2022 semester series concludes.
About the Brantley Risk & Insurance Center
App State maintains the sixth largest insurance program nationally, and has been ranked second in the nation by AM Best, the world's largest credit rating agency specializing in the insurance industry.
The Brantley Center enhances the academic experience by providing space and staff to assist students interested in the RMI program with networking, job placement and faculty engagement. It provides students opportunities for scholarship, international and domestic travel, and professional designation and licensing programs. The center brings industry leaders to classrooms, fosters research and faculty development, assists the insurance industry with continuing education programs and helps educate the public about the insurance industry.
Learn more at https://insurance.appstate.edu.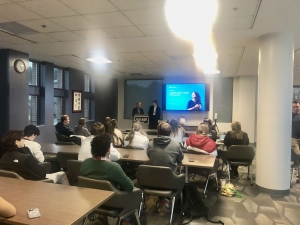 Tags: