Join us in congratulating Jacqueline Salinas, the first recipient of the Markel Specialty Scholarship. The scholarship sponsored by Markel Specialty is designed to support diverse students pursuing a career in insurance.
Salinas, a junior risk management and insurance and finance double major, hopes to begin a career in claims upon her graduation in May 2022; Salinas is grateful for the support from Markel in pursuing her dreams. A first-generation student, she was part of the Fall 2020 Building Insurance Talent Cohort and made the Dean's list for the Fall 2020 semester. Salinas will also serve on the '21-'22 AppState Gamma Iota Sigma Leadership Team as the Inclusive Excellence Liason.
When asked about her favorite part about majoring in Risk Management and Insurance, Salinas said, "It is the number of resources available for students to utilize. The Brantley Center is especially important with regular updates on what is going on and how anyone can join and be a part of it, like the Markel Specialty Scholarship."
Congratulations, Jaqueline!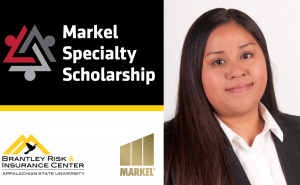 Tags: