This past summer I had the opportunity to intern with Builders Mutual Insurance Company as a Claims intern, primarily focusing on Workers' Compensation claims. Despite the pandemic, I was able to go into the office every other week to connect with employees and gain the perspective of what it is like to work in the office. Through my internship at Builders, I learned a tremendous amount about the insurance industry, leadership, and claims.
Before starting the internship in May, Builders Mutual prepared me for my role by supporting me in the process of getting certified with my adjuster's license. Because Builders helped me get my license, I was able to adjust claims completely on my own! I learned the ins and outs of the claims process and then I was assigned claims of my own. Throughout the summer, I handled 53 medical only workers' compensation claims, beating the record for most claims handled by an intern! I got to work the claims from beginning to end, starting with calling insured, talking to injured workers, collecting medical records, and then paying the claim. Builders offered me a great hands-on learning experience and allowed me to fully immerse myself into the claims department.
Besides handling claims, I was given the opportunity to connect with several people throughout the company, including my fellow interns. I was one of six interns, and I had the chance to become really close to the interns and employees. I participated in daily meetings with the other interns that ranged from wellness challenges to tech advice. I also participated in weekly department meetings with my team and roundtables, where I heard about so many crazy claims! Also, I was given the chance to speak to a new leader within the company each week. I got to chat with the CEO, CFO, and many other leaders to gain leadership advice and insight on working within the insurance industry.
Throughout my time as an intern I gained so many great skills and learned so much. I am so thankful for Builders Mutual for providing me a meaningful internship experience and allowing me to get my feet wet by handling claims of my own!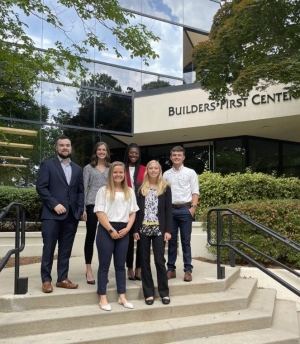 Tags: