Last month, three professors from AppState spoke at one of The Institutes Griffith Insurance Education Foundation's webinars titled "Foster Care and Insurance: Exploring Opportunities and Issues Around Risk Management". Speakers included Judith L. French, JD, Director, Ohio Department of Insurance, Dr. David C. Marlett, Dr. Lorilee A. Medders, and Dr. Jamie A. Parson. The discussion, moderated by the Executive Director of The Institutes Griffith Foundation, Frank Paul Tomasello, JD, featured insights on issues related to foster care liability exposures and approaches to address the risks. Public policymakers, staff and interns, and others viewed this complimentary, non-partisan and non-advocative webinar.
Dr. David Marlett, a speaker at this webinar and Managing Director of the Brantley Center and risk management and insurance professor said about the event: "We appreciate the opportunity to partner with The Institutes Griffith Foundation in order to shine the spotlight on this important topic. There is a desperate need for foster parents, and they need to be supported and protected if they choose to serve. We were able to share our personal experience and research to provide guidance for public policymakers across the nation."
Frank Paul Tomasello, JD, Executive Director of The Institutes Griffith Foundation, said "It was a pleasure moderating the discussion on foster care and insurance. The learned professors of AppState graciously shared their insight and expertise on this important topic, while ensuring that their comments were purely instructional in nature and did not take a position on any issues."
To view this complimentary webinar, please visit The Institutes Griffith Foundation website at www.griffithfoundation.org.
About the Brantley Risk & Insurance Center
The Brantley Risk & Insurance Center enhances the academic experience of business students at Appalachian State University in the Walker College of Business by providing space and staff to assist with networking, job placement preparation and contact with faculty members outside the classroom. It provides students opportunities to participate in professional designation and licensing programs and invites industry leaders to participate in classes and speak to student organizations. It also fosters research and faculty development, assists the insurance industry in the design and delivery of continuing education programs, and helps educate the public about the insurance industry. Learn more at https://insurance.appstate.edu.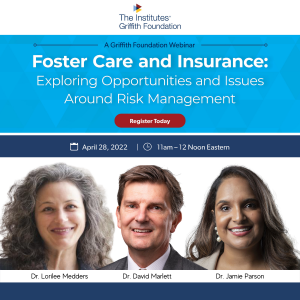 Tags: