The Independent Insurance Agents of North Carolina (IIANC) has made a $95,000 gift to the Brantley Risk and Insurance Center at Appalachian State University. Joe Stewart, VP of Governmental Affairs, presented the check to Brantley Center Associate Director Lacy Chesnutt on Oct. 27.
IIANC has historically contributed annually to support the operations of the Brantley Center, which prepares Appalachian students to become industry leaders through programs including student interview guidance, resume production techniques, and teaching networking and other "soft skills" that complement a rigorous academic course schedule in insurance and risk management.
IIANC is the founding strategic partner of the Brantley Risk and Insurance Center. The annual support of the IIANC and its members, along with the IIANC Education Foundation, helps ensure Appalachian's RMI program continues to be the flagship program for insurance in the UNC System.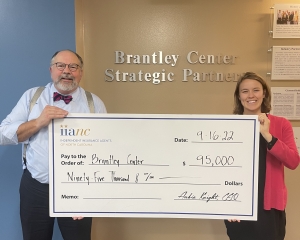 Tags: