The GIS student group welcomed Lockton onto campus to present during one of the spring semesters "Speaker Series". This series is meant to expose students to a variety of insurance topics while offering them the opportunity to see different career paths and network with industry professionals. Speakers from Lockton included Lee Smathers, Jordan Pierce, and Zach Southern. Caroline Reeder, junior RMI student at Appalachian State and 2023 Lockton summer intern, introduced the speakers. The presentation focused on career paths within the employee benefits space and Lockton's approach to business.
The next GIS Speaker Series will be held on Tuesday, February 28th, and will feature Aristotle Moulopoulos, Production Specialist with Alive Risk.
About the Brantley Risk & Insurance Center
App State maintains the sixth-largest insurance program nationally and has been ranked second in the nation by AM Best, the world's largest credit rating agency specializing in the insurance industry.
The Brantley Center enhances the academic experience by providing space and staff to assist students interested in the RMI program with networking, job placement, and faculty engagement. It provides students with opportunities for scholarships, international and domestic travel, and professional designation and licensing programs. The center brings industry leaders to classrooms, fosters research and faculty development, assists the insurance industry with continuing education programs, and helps educate the public about the insurance industry.
Learn more at https://insurance.appstate.edu.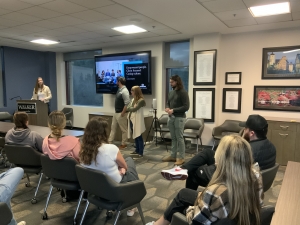 Tags: