The Gamma Iota Sigma Rho welcomed its first guest speaker on campus yesterday to kick off its Fall Speaker Series. Franklin Manchester, SAS Global Insurance Strategic Advisor, joined the group from Cary, North Carolina to share his insights on industry trends, early career tips, and his personal path in insurance. More than two dozen risk management and insurance students as well as other majors benefitted from Manchester's insights and had numerous questions for the industry leader. Representation from Illinois State was also able to join the session remotely, making this the chapter's first inter-collegiate event of the year.
The GIS Speaker series is part of many professional development opportunities offered by the Gamma Iota Sigma Rho Chapter and the Brantley Risk & Insurance students. The goal of the series is to expose prospective future insurance leaders to potential career paths and help students develop invaluable soft skills that will aid them in their professional careers.
About the Brantley Risk & Insurance Center
App State maintains the sixth largest insurance program nationally, and has been ranked second in the nation by AM Best, the world's largest credit rating agency specializing in the insurance industry.
The Brantley Center enhances the academic experience by providing space and staff to assist students interested in the RMI program with networking, job placement and faculty engagement. It provides students opportunities for scholarship, international and domestic travel, and professional designation and licensing programs. The center brings industry leaders to classrooms, fosters research and faculty development, assists the insurance industry with continuing education programs and helps educate the public about the insurance industry.
Learn more at https://insurance.appstate.edu.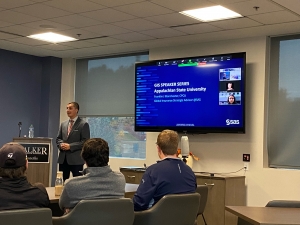 Tags: