Forty Appalachian State insurance students attended a Meal & Alcohol Etiquette dinner on the evening of Monday, February 20. The event was hosted by the Brantley Risk & Insurance Center to assist students in growing their skill set in this area to help students feel more comfortable at formal professional dinners as well as industry networking events where alcohol is served.
The event had three components: 1) Dining Etiquette, which was facilitated by Amy Odom, Executive Director of Business Career Services 2) Alcohol Etiquette, facilitated by Michael Odom, former AppState employee with numerous years' of experience in the food and wine industry, and 3) Industry Overview and Q&A with Michael Mitchell and Harrison Cameron of Risk Placement Services. The Brantley Center is thrilled for the opportunity to make this event possible again after a several year hiatus due to COVID, and is so appreciative to the facilitators for putting on such an excellent program for these soon-to-be industry leaders.
About the Brantley Risk & Insurance Center
App State maintains the sixth-largest insurance program nationally and has been ranked second in the nation by AM Best, the world's largest credit rating agency specializing in the insurance industry.
The Brantley Center enhances the academic experience by providing space and staff to assist students interested in the RMI program with networking, job placement, and faculty engagement. It provides students with opportunities for scholarships, international and domestic travel, and professional designation and licensing programs. The center brings industry leaders to classrooms, fosters research and faculty development, assists the insurance industry with continuing education programs, and helps educate the public about the insurance industry.
Learn more at https://insurance.appstate.edu.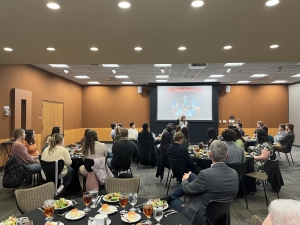 Tags: