Fourteen Appalachian State University Risk Management & Insurance and Actuarial Science majors participated in the Fall 2018 CPCU Shadow Day in Charlotte on Friday, November 2. This annual event is sponsored by the Charlotte CPCU Chapter and takes place every fall. Due to Hurricane Florence, the event was re-scheduled from September 14. During Shadow Day the students were partnered with Charlotte area industry leaders to learn more about internships and professional opportunities within the Insurance industry in various roles such as Underwriting, Claims, Brokerage and Sales.
"The Charlotte CPCU Chapter is very proud of our partnership with Appalachian State and UNCC," says 2018 Chapter President Jon Hall of Lockton. "Our annual Shadow Day gives students a look into our profession and is one of several engagement events we conduct with the students, in addition to the scholarship funds we contribute to each school's Risk Management programs. Charlotte area companies have benefited from the robust pipeline of new students into our industry, and this is critical to ensure that we continue to attract and develop young workers."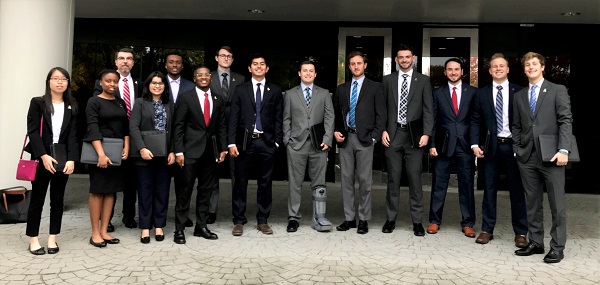 Students from Appalachian State who participated in the CPCU Shadow Day Program
"As a graduate of the Appalachian State RMI program, I was honored to be able to coordinate this year's CPCU Shadow Day for App State and UNCC students," adds Ann Cunningham, Underwriter with Liberty Mutual Insurance. "CPCU Shadow Day provides students the opportunity to see day-to-day operations as they "shadow" insurance industry employees during a regular work day. We were thrilled to see the level of engagement from the students and area companies that participated in the CPCU Shadow Day."

The Charlotte CPCU Chapter provides scholarships for AppState Risk Management & Insurance (RMI) majors, as well as making it possible for students to attend their regional and national conferences. Read more about the Charlotte CPCU Chapter here: https://charlotte.cpcusociety.org
Tags: