The Brantley Risk and Insurance Board of Advisors met in person in the Walker College of Business last week on February 2nd and 3rd. This bi-annual in-person meeting is an important time for Board members and Brantley Center faculty and staff to exchange ideas and provide updates. The Board members also had time to interact with current risk management and insurance students over breakfast on Friday. Presentations were provided by Gamma Iota Sigma leadership, Tanner Grail and Brooke Gruber, and by AppRIMI intern Omar Gonzalez.
You can learn more about the Brantley Board of Advisors here.
About the Brantley Risk & Insurance Center
App State maintains the sixth-largest insurance program nationally and has been ranked second in the nation by AM Best, the world's largest credit rating agency specializing in the insurance industry.
The Brantley Center enhances the academic experience by providing space and staff to assist students interested in the RMI program with networking, job placement, and faculty engagement. It provides students with opportunities for scholarships, international and domestic travel, and professional designation and licensing programs. The center brings industry leaders to classrooms, fosters research and faculty development, assists the insurance industry with continuing education programs, and helps educate the public about the insurance industry.
Learn more at https://insurance.appstate.edu.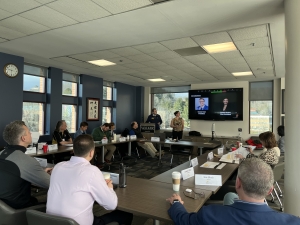 Tags: