Josh Ammons (class of '07), executive vice president with Amwins Brokerage and Brantley Center board of advisors chairman, received the WSIA (Wholesale & Specialty Insurance Association) Richard Bouhan Legislative Advocacy award this week. Josh was recognized for his exceptional support and advocacy for the WSIA PAC and the U40 group.
To read more about this impressive accomplishment, check out the news article here and scroll towards the bottom to read Josh's story.
About the Brantley Risk & Insurance Center
The Brantley Risk & Insurance Center enhances the academic experience of business students at Appalachian State University by providing space and staff to assist with networking, job placement preparation and contact with faculty members outside the classroom. It provides students opportunities to participate in professional designation and licensing programs and invites industry leaders to participate in classes and speak to student organizations. It also fosters research and faculty development, assists the insurance industry in the design and delivery of continuing education programs, and helps educate the public about the insurance industry. Learn more at https://insurance.appstate.edu.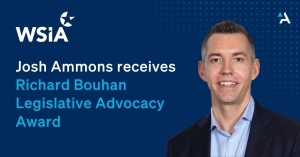 Tags: