On Wednesday, eight Appalachian insurance students trekked from Boone to Charlotte to attend The Institutes 49th Annual Insurance Forum, or "I-Day". Thanks to the support of the Charlotte CPCU Chapter, the students were able to learn about current topics from several engaging speakers while networking with area professionals at the beautiful Ballantyne Country Club.
Thank you, Charlotte CPCU, for this opportunity to enrich these students' education!
About the Brantley Risk & Insurance Center
App State maintains the sixth-largest insurance program nationally and has been ranked second in the nation by AM Best, the world's largest credit rating agency specializing in the insurance industry.
The Brantley Center enhances the academic experience by providing space and staff to assist students interested in the RMI program with networking, job placement, and faculty engagement. It provides students with opportunities for scholarships, international and domestic travel, and professional designation and licensing programs. The center brings industry leaders to classrooms, fosters research and faculty development, assists the insurance industry with continuing education programs, and helps educate the public about the insurance industry.
Learn more at https://insurance.appstate.edu/.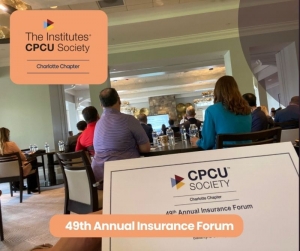 Tags: