As part of their 2019 PriSim Agency Management Team competition kick-off at Appalachian State, representatives from Selective Insurance addressed a standing-room-only crowd of students for the first the Gamma Iota Sigma Guest Speaker Series of the semester on January 29.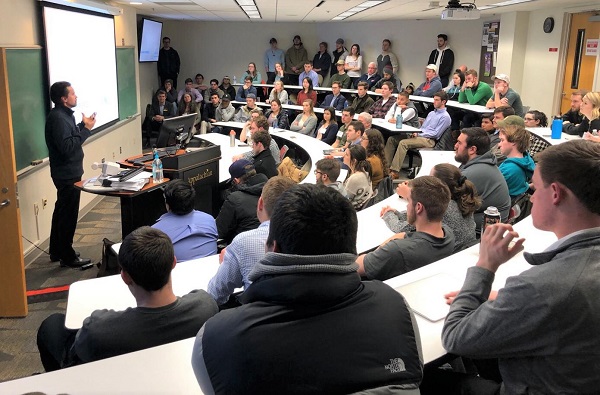 Joining from Selective Insurance for the kick-off in Peacock Hall were Wesley Riley, VP and Field Operations Manager from Charlotte, NC; Bob Redden, Agency Development from New Jersey and InVEST Board member; Noah Cramer, Commercial Underwriter from Charlotte, NC; along with Travis Washington, Senior Talent Acquisition Specialist from Charlotte, NC.
About the 2019 Appalachian Team
Six students from Appalachian State University are participating in the 2019 PriSim Agency Management Competition, which is presented by the national InVEST Board. Eight university teams from across the country will participate in running a simulated insurance agency for four weeks in February. The top three teams will win an all-expense paid trip to Washington D.C. for the 2019 Big "I" Legislative Conference in May.
The Appalachian team is comprised of Juniors Devon Goolsby and Kimberly Aguirre, and Seniors Morgan Mullis, Nathaniel Johnson, Kirsten Beaver and Reid Cooper. Serving as mentors for the Appalachian team are Brantley Risk & Insurance Center Board members Jeff Haney of ECM Insurance Solutions, along with Neil Annas from Granite Insurance.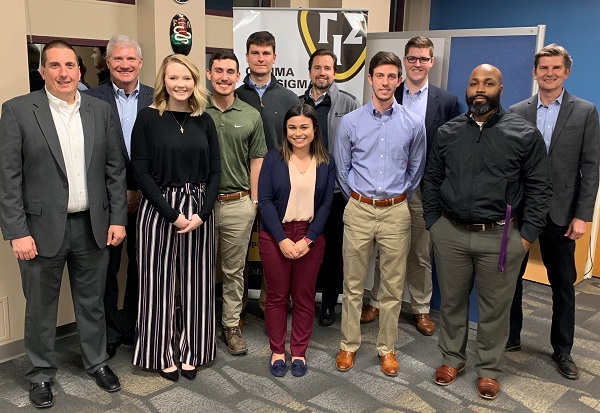 L-R: Wesley Riley, Jeff Haney, Devon Goolsby, Morgan Mullis, Nathaniel Johnson, Kirsten Beaver, Bob Redden, Reid Cooper, Noah Cramer, Travis Washington, Dr. David Marlett (Not pictured student Kimberly Aguirre and mentor Neil Annas)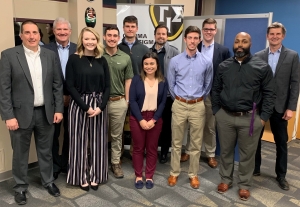 Tags: