The primary mission of the Brantley Risk and Insurance Center is to support the Risk Management and Insurance major at Appalachian State University. Two additional goals are to assist the industry in the design and delivery of continuing education programs and also to help educate the public as to the role of insurance in modern life.
In order to meet these external goals, the Brantley Center held its first Insurance Symposium in 2008. The topic was Coastal Insurance Issues and the event was very successful. This led to thoughtful discussion among stakeholders and an examination of the coastal insurance market and eventually a legislative task force was formed. The symposium was often referenced during task force meetings and created quite a bit of positive exposure for the Brantley Center and Appalachian State University.
Joe Stewart with the North Carolina Chamber asked if we were doing another symposium and suggested Workers' Compensation as a topic. After discussing this suggestion with the Brantley Center Advisory Board and faculty, we decided it was relevant, of interest to the public, and consistent our goals.
The 2010 Insurance Symposium was held in this past August in Winston Salem. An impressive group of speakers participated including:
George Teague, Partner, Nelson Mullins Riley & Scarborough
Jay Norris, Manager, claims at Duke Energy Corporation and president of the North Carolina Association of Self-Insurers
Stuart Powell, Vice President of insurance operations and technical affairs, IIANC
Carol Telles and Nicole Coomer, Workers Compensation Research Institute
Bob Hartwig, President, Insurance Information Institute
Doug Berger, North Carolina State Senator
Andy Avram of Cranfill Sumner & Hartzog
Bruce Hamilton, Partner, Teague, Campbell, Dennis & Gorham
Mike Plavincky, President & CEO, Montgomery Insurance
Pam Young, Chair, North Carolina Industrial Commission
Ray Evans, Manager, North Carolina Rate Bureau and North Carolina Reinsurance
Facility
Wayne Goodwin, Commissioner, North Carolina Department of Insurance
Nearly 225 registrants attended the symposium on August 2nd and over seventy qualified for continuing education credits. The large audience attracted numerous employer representatives, insurance agents, regulators, medical providers, and attorneys. Feedback from the audience members was very positive and most attendees appreciated hearing from the diverse group of speakers representing stakeholders with different perspectives and backgrounds.
Insurance Commissioner Wayne Goodwin who was on a regulatory panel session shared his thoughts on the value of the event. "It was an honor to participate in this year's ASU Insurance Symposium. Workers compensation is a large piece of North Carolina's insurance industry, and I'm glad that there were so many interested parties at the symposium who could reflect on and offer suggestions for the current system. Thank you to Appalachian State University for their continuing efforts and interest in our industry and the work of the Department of Insurance."
Neil Annas, President of Granite Insurance Agency and member of the Brantley Center Advisory Board agreed. "For a second time the Appalachian State University Brantley Risk and Insurance Center has taken a lead role in exploring issues that are important to the insurance industry for North Carolina. First with coastal property insurance issues and now with Workers' Compensation. The Symposium offered an opportunity for the multiple players in the work comp system to share their thoughts and perspectives on how well the current system was working. But what I found more interesting were the ideas each brought about opportunities to improve the system. This symposium was an essential first move toward looking at opportunities to improve our industry."
Lew Ebert, President and CEO of the North Carolina Chamber added "An efficient and effective workers' compensation system is very important to North Carolina's business climate. The symposium that Appalachian State hosted was a great opportunity for business leaders and public officials to focus on how we can make improvements to benefit both employees and employers."
We believe this symposium helped create a productive dialogue among the stakeholders in searching for ways to improve the Workers Compensation system in North Carolina. Patrick Hannah, Assistant Vice President & Sr. Regional Director of Public Affairs for the Liberty Mutual Group sums up the event with "The symposium was truly a collaboration. It proves that when the academic community, industry and government work together positive change can be made for the citizens of North Carolina."
For additional information regarding the Symposium contact Dr. David Marlett at 828-262-2849 or marlettdc@appstate.edu.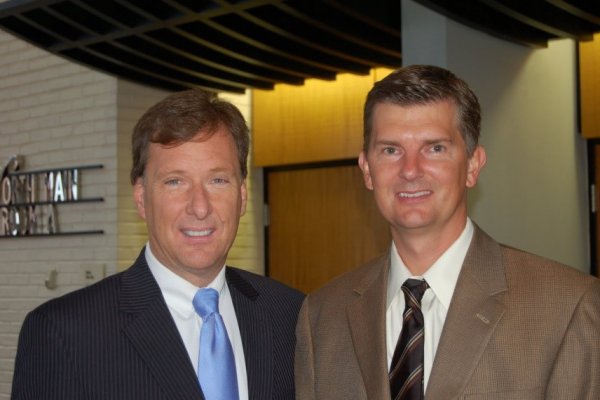 Mike Plavnicky (left), President and CEO of Montgomery Insurance and member of the Brantley Center Advisory board was the Keynote Luncheon speaker.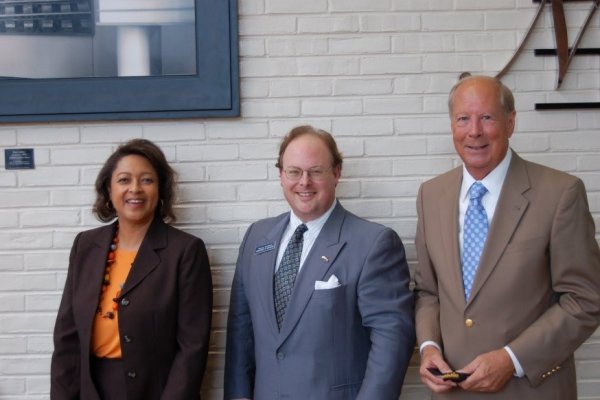 Left to right: Pam Young, Chair, NC Industrial Commission; Wayne Goodwin, Commissioner, NC Department of Insurance; Ray Evans, Manager, NC Rate Bureau and NC Reinsurance Facility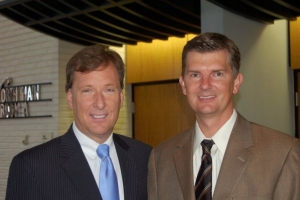 Tags: