Elizabeth Haithcock is a rising senior double majoring in finance and banking and risk management and insurance. Elizabeth holds an internship for this summer with North Carolina Rate Bureau (NCRB), based out of Raleigh, NC. The NC Rate Bureau provides services and programs for the insurance industry in North Carolina for automobile, property, and workers compensation.
AT NCRB, Elizabeth is working under Allison Smart, Director of Workers Compensation. Elizabeth is interested in how North Carolina differs from other states, as the rate bureau is an independent agency whereas, in most states, rate bureaus have their equivalent of the NCCI creating rates and regulations.
When asked about what opportunities for improvement and learning that she's had so far, Elizabeth mentions a weekly meeting she attends called "Emerging Leaders." "For these meetings, one day every week I get to sit down and pick the brain of someone in the office who is in a high-level position. So far I have been able to chat with Jarred Chappell, our COO, Rebecca Williams, our actuary, and Andy Montano, the Director of Personal Lines. I have been able to ask them about their journeys of how they got to their current positions, as well as hear their overviews of the industry and what exactly they do at the Rate Bureau."
As to what she's contributing to NCRB, Elizabeth said, "One of the bigger selling points to them hiring me as an intern is that I am a Computer Information Systems minor, and have taken classes on Tableau. They had recently spent a lot of money on getting Tableau and converting their data to be able to export their data into Tableau. The only issue is most of the people do not know much about the software. So, something that I am doing this summer is entering meetings with different managers, where they tell me their dream dashboard that will help them keep track of their employees progress. I have really been enjoying my time at the NC Rate Bureau."
Good luck with the rest of your internship Elizabeth, we look forward to your continued success.
About the Brantley Risk & Insurance Center
The Brantley Risk & Insurance Center enhances the academic experience of business students at Appalachian State University by providing space and staff to assist with networking, job placement preparation and contact with faculty members outside the classroom. It provides students opportunities to participate in professional designation and licensing programs and invites industry leaders to participate in classes and speak to student organizations. It also fosters research and faculty development, assists the insurance industry in the design and delivery of continuing education programs, and helps educate the public about the insurance industry. Learn more at https://insurance.appstate.edu.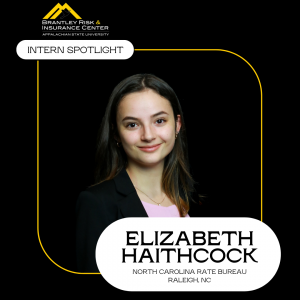 Tags: