Sienna Sigmon, a senior risk management and insurance (RMI) major, performed in her final major performance of her college career this week, the Spring Appalachian Dance Ensemble (or "SADE"). Eight of Sienna's fellow RMI students and three faculty and staff from the Brantley Center were able to attend Sienna's outstanding performance.
Hosted by the Department of Theatre and Dance in the Valborg Theatre in Boone, this Spring showcase features the best of the best of Appalachian's performers. Sigmon auditioned for her role in the piece "Stress Reaction" and was one of the few selected to perform in the prestigious showcase. She dedicated more than four hours a week to rehearsals on top of her busy schedule as a top RMI student and her role as Co-VP of Events on the Gamma Iota Sigma insurance professional fraternity. Sienna will be graduating in May and joining Granite Insurance in Granite Falls, NC. Congratulations, Sienna!
About the Brantley Risk & Insurance Center
App State maintains the sixth-largest insurance program nationally and has been ranked second in the nation by AM Best, the world's largest credit rating agency specializing in the insurance industry.
The Brantley Center enhances the academic experience by providing space and staff to assist students interested in the RMI program with networking, job placement, and faculty engagement. It provides students with opportunities for scholarships, international and domestic travel, and professional designation and licensing programs. The center brings industry leaders to classrooms, fosters research and faculty development, assists the insurance industry with continuing education programs, and helps educate the public about the insurance industry.
Learn more at https://insurance.appstate.edu/.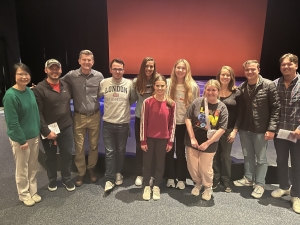 Tags: