The Gamma Iota Sigma student group at App gathered to cheer on the AppState wrestling team in their match against Duke on Tuesday, January 25. Several students on the team are risk management and insurance majors or are pursuing careers in insurance including Jon-Jon Millner and Will Formato.
Two risk management and insurance professors, Dr. Lori Medders and Professor Austin Eggers, were also recognized during the match as part of "Professors Day". The event gave each student wrestler an opportunity to recognize a professor that has had the most meaningful impact on their learning. Dr. Medders was selected by Jon Jon Milner and Will Formato and Professor Eggers was selected by Chad Bellis.
Congratulations, Mountaineers!
About the Brantley Risk & Insurance Center
App State maintains the sixth-largest insurance program nationally and has been ranked second in the nation by AM Best, the world's largest credit rating agency specializing in the insurance industry.
The Brantley Center enhances the academic experience by providing space and staff to assist students interested in the RMI program with networking, job placement, and faculty engagement. It provides students with opportunities for scholarships, international and domestic travel, and professional designation and licensing programs. The center brings industry leaders to classrooms, fosters research and faculty development, assists the insurance industry with continuing education programs, and helps educate the public about the insurance industry.
Learn more at https://insurance.appstate.edu.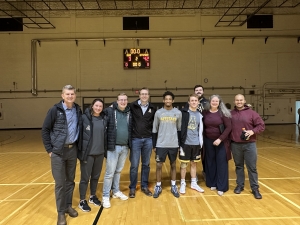 Tags: