Three RMI students from Appalachian State University placed third in the 2023 Spencer-RIMS Risk Management Challenge, an 8-month-long, global competition to develop and present the most comprehensive Risk Management program based on a case study.
Finance and Banking and Risk Management and Insurance Seniors Hannah Bagley and Marcella Gianni and Applied Data Analytics Senior Omar Gonzalez made up the App State Risk Challenge Team.
The competition was held in conjunction with the Risk and Insurance Management Society Inc.'s Riskworld Conference and Spencer Educational Foundation Inc. reception on May 1.
"App State's Risk Challenge team finished in 3rd place overall, globally. The top three teams all presented and fielded questions impressively," said Dr. Lori Medders, a faculty advisor to the students who attended the competition and associated conference with them. "Our App State students did stellar work and represented App State beautifully. I could not be more proud."
The Spencer Educational Foundation worked closely with SouthEastern Pennsylvania Transportation Authority (SEPTA) Chief Risk Officer Richard Graham to create a real-life case for the students to develop effective risk management strategies. Students were charged with identifying SEPTA's top five risk management exposures and presenting solutions for the risks, including identifying three diversity, equity and inclusion initiatives.
From the original 24 entrants, eight teams were selected to present at the conference before the judges selected the three finalists.
The App State students met fellow finalists British Columbia Institute of Technology (Burnaby, Canada) and University of Wisconsin-Madison in the final round.
They finished ahead of semi-finalists from California State University, Fullerton; Peking University (Beijing, China); Saint Joseph's University, Philadelphia; St. Mary's University, San Antonio; and The University of Georgia, Athens.
App State won the 2022 challenge, and Gonzalez was also a member of that team.
Related: RIMS Challenge Team Wins First Place in International Competition
About Appalachian's Risk Management and Insurance Program
Appalachian's Risk Management and Insurance Program is the sixth largest in the country according to Business Insurance magazine. The college's Brantley Risk and Insurance Center, founded in 1988 with support from the Independent Insurance Agents of North Carolina, supports research and faculty development, assists the insurance industry in the design and delivery of training and continuing education programs, and facilitates interaction between students, faculty and the professionals in the insurance industry. Appalachian is designated a Global Center of Insurance Excellence by the International Insurance Society. For more information about the Center, visit insurance.appstate.edu.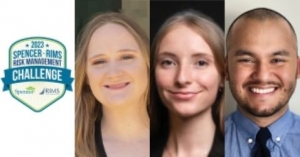 Tags: