16 RMI students attended 52nd Gamma Iota Sigma Annual International Conference in Baltimore last week.
The pinnacle of the event was the annual awards dinner, where the Rho Chapter was bestowed with the prestigious title of an "Excellent Chapter of Gamma Iota Sigma." This recognition is a testament to their hard work, dedication, and outstanding contributions to the organization. It is a proud moment for both the chapter and the university as a whole.
In addition to the enriching educational and professional aspects of the conference, the Rho Chapter members also had a blast attending the Orioles Game on Friday, adding a touch of fun and camaraderie to their experience.
One notable highlight of the conference was the presence of Dr. Marlett, who spoke on a Faculty Panel alongside other esteemed faculty advisors. Together, they shared their expertise and discussed the best practices in risk management and insurance program management. This not only showcased the dedication of the Rho Chapter but also highlighted the university's commitment to producing top-notch professionals in the industry.
Overall, the Annual International Conference in Baltimore was a resounding success for the Rho Chapter of Gamma Iota Sigma, reaffirming its commitment to excellence in the field of risk management and insurance. Thank you to all who made this incredible opportunity possible for the students, as it undoubtedly left a lasting impact on their academic and professional journeys.
About the Brantley Risk & Insurance Center
App State maintains the sixth-largest insurance program nationally and has been ranked second in the nation by AM Best, the world's largest credit rating agency specializing in the insurance industry.
The Brantley Center enhances the academic experience by providing space and staff to assist students interested in the RMI program with networking, job placement, and faculty engagement. It provides students with opportunities for scholarships, international and domestic travel, and professional designation and licensing programs. The center brings industry leaders to classrooms, fosters research and faculty development, assists the insurance industry with continuing education programs, and helps educate the public about the insurance industry.
Learn more at https://insurance.appstate.edu.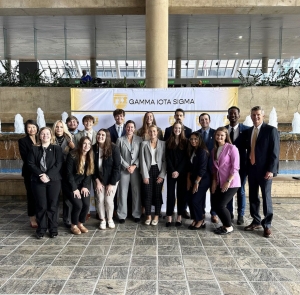 Tags: