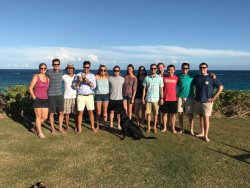 This summer, a select group of students traveled to Bermuda to study Risk Management and Insurance (RMI), with a particular focus on risk connected to climate change.
This is the third year that students have traveled to Bermuda and the eleventh year of this program, which provides RMI majors the unique opportunity to learn about international insurance markets firsthand.
The study abroad program is part of a full-semester course titled International Insurance Markets; students are able to choose a short-term study abroad experience in either London or Bermuda to complete course requirements.
Related: 2017 Spring Break study abroad excursion to England
Participation in the study abroad portion is made affordable through the generosity of donors like Dennis Crosby '80, an alumnus who has supported this program for the last three years, and alumnus Daniel Heinlein '07 who currently lives and works in Bermuda.
Related: Young alumni featured in Bermuda's Royal Gazette
Walker College of Business International Programs Coordinator Meredith Pipes sat down with Professor David Marlett, Director of the Brantley Risk and Insurance Center and program leader, about the study abroad experience. Their discussion follows.
Pipes: Why study risk management and insurance in Bermuda?
Marlett: Bermuda is one of the global centers of insurance and reinsurance (along with London and New York City). We are able to meet with a large number of professionals in a short time and in a small geographic area. Plus the types of insurance transactions dealing with climate change and unpredictable weather patterns are cutting edge. One of our visits involved a company insuring the predictability of wind speed for companies building wind farms. The problem for builders and their lenders is that they are unable to pay their bills and repay loans if the wind doesn't blow as expected. The insurer provides compensation if the winds are less than predicted, thereby allowing the wind farms to be financed and built.
Pipes: What do you see is the importance of studying RMI/INS abroad? Can our students learn enough just staying on campus?
Marlett: We bring speakers to campus, but there is no substitute for traveling there in person. A student becomes more confident once they realize they can navigate customs and immigration, use public transportation, and engage in a thoughtful discussion with professionals in another nation.
Pipes: What do you hope students take away from their experience in your course and abroad?
Marlett: The students gain a firsthand perspective on how risk is transferred across the globe. They also become aware of how the United States, Bermuda and the United Kingdom are linked, with professionals from each country interacting regularly. I also hope that students see that it is both possible to work internationally as well a wise professional move.
Students can attest to the importance of this experience. AmWINS Associate Broker Cecilia Yanez '17 participated in the 2017 program.
"Traveling to Bermuda was one of the most memorable experiences of my college career," said Yanez. "Not only did this experience enhance knowledge gained in the classroom setting but it also opened my eyes to new concepts in insurance. Aside from the educational aspect of the trip, the professionals we met with were eager to share their experiences and get to know the students for the short time we were there. This was remarkable and truly comforting to know I am lucky enough to begin my career in an industry that is so invested in young talent."
High-performing RMI majors with an interest in participating in the program should contact Dr. David Marlett, marlettdc@appstate.edu, for more information.
For other life-changing opportunities to study abroad through the Walker College of Business, visit www.international.business.appstate.edu or contact Meredith Church Pipes, cobinternational@appstate.edu. For information on supporting international study abroad as a donor, contact Will Sears, searswill@appstate.edu, or visit business.appstate.edu for more information.