The Brantley Risk & Insurance Center is proud to announce the North Carolina Rate Bureau (NCRB) as its newest Strategic Partner.
The NCRB's new role as a Strategic Partner and its annual financial commitment to the Center's operations add to its ongoing support and partnership with the Center developed over the past few years. COO Jarred Chappell has supplemented several academic classes in the Appalachian State Risk Management program and attended its bi-annual career fairs. Most recently, the NCRB brought on two Appalachian State students as interns in the summer of 2022, Elizabeth Haithcockand Madison Haithcock. Rising seniors Hunter Newkirk Luciano Zito is slated to join the Raleigh office as an intern for the summer of 2023.
When asked about the new partnership, COO Chappell shared, "The North Carolina Rate Bureau is excited to partner with the Brantley Center to help bring future generations of professionals into our industry. The Brantley Center team already does an amazing job teaching students risk management principles, insurance concepts, and how they can build a successful career in the field. My hope is that the Rate Bureau partnership can add to their knowledge of how the industry operates specifically in North Carolina and open opportunities for young professionals in our state."
Thank you, NCRB, for your support!

You can learn more about the Brantley Risk & Insurance Center's Strategic Partners program here: https://insurance.appstate.edu/strategic-partners
About the Brantley Risk & Insurance Center
App State maintains the sixth largest insurance program nationally and has been ranked second in the nation by AM Best, the world's largest credit rating agency specializing in the insurance industry.
The Brantley Center enhances the academic experience by providing space and staff to assist students interested in the RMI program with networking, job placement and faculty engagement. It provides students opportunities for scholarship, international and domestic travel, and professional designation and licensing programs. The center brings industry leaders to classrooms, fosters research and faculty development, assists the insurance industry with continuing education programs and helps educate the public about the insurance industry.
Learn more at https://insurance.appstate.edu.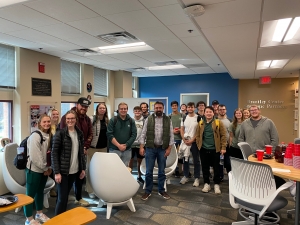 Tags: