Students from Appalachian State University attended the 51st annual international conference of Gamma Iota Sigma (GIS) in Charlotte, September 29-30, 2022.
The students, members of App State's GIS Rho Chapter, participated in educational sessions alongside industry professionals and their faculty advisors, Dr. Austin Egger and Dr. David Marlett. Session topics included The Impact of Emerging Technology on The Insurance Industry, Riding the Storm: Careers in Employee Benefits, and Understanding Employer's Benefit Response to the Roe v Wade Decision, among many others.
The Brantley Center strongly encourages student travel as a means of experiential learning. Students have opportunities to travel locally, regionally and internationally. Interested students are encouraged to get involved with App State's Rho chapter of GIS -- the international professional collegiate insurance organization sponsored by the Brantley Center -- to learn more or sign up for travel opportunities.
About the Brantley Risk & Insurance Center
The Brantley Risk & Insurance Center enhances the academic experience of business students at Appalachian State University by providing space and staff to assist with networking, job placement preparation and contact with faculty members outside the classroom. It provides students opportunities to participate in professional designation and licensing programs and invites industry leaders to participate in classes and speak to student organizations. It also fosters research and faculty development, assists the insurance industry in the design and delivery of continuing education programs, and helps educate the public about the insurance industry. Learn more at https://insurance.appstate.edu.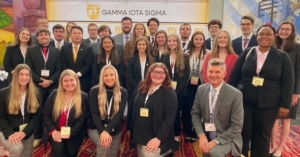 Tags: