The Appalachian State Gamma Iota Sigma Rho chapter is finishing up their semester-long food drive. The proceeds of this food drive are going to the Sustainability Office and their campus-wide services. Jen Evans, Co-Director of Membership running the food drive, emphasized the importance of this cause. "The Sustainability Office reaches the entire App State community of students and staff who cannot afford groceries. I know several students who make weekly trips to the office for free food, clothes, and personal hygiene products. Their services are meant to help those in need, especially college students who live in the dorms and do not have cars in Boone." This is Evans' second year heading up the food drive initiative for GIS.
The Sustainability Office responded to the efforts made by Gamma Iota Sigma: "It can be very stressful for those who find themselves in need of the services we provide, and your actions support us in helping them meet their needs."
From this experience, Jen learned that everyone can use a helping hand during COVID-19 times and beyond. So far, the food drive has collected 312 individual food items. The drive ends this Friday, April 23rd at 5 pm. If you'd like to donate food items to the food drive, the donation table is located on the 2nd floor of Peacock Hall by the doors to the stairway.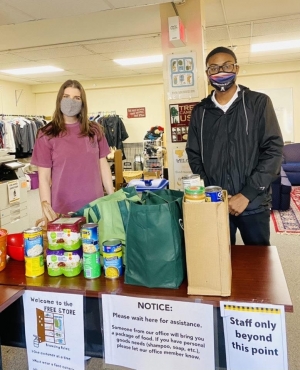 Tags: