The risk management and insurance professional fraternity at Appalachian State, Gamma Iota Sigma Rho, kicked off the semester with a bang on Wednesday, February 1st. The Open House event is a way to introduce new students to the club and teach them about GIS' networking, travel, social, volunteering, and professional development opportunities throughout the semester. The event also helps new students meet the GIS Leadership, risk management faculty and staff, and exposes them to future leadership opportunities. This semester's Open House event drew in almost 100 students.
Blue Cross Blue Shield of North Carolina's Nelson Russ also spoke during the event to kick off the GIS Speaker Series events for the semester. The series brings industry professionals onto campus to discuss a range of topics related to the insurance industry. Russ focused his presentation on internship application readiness while also helping students to understand the basics of the health insurance industry. The next Speaker Series event is scheduled for Wednesday, February 8th and will feature speakers from Lockton.
About the Brantley Risk & Insurance Center
App State maintains the sixth-largest insurance program nationally and has been ranked second in the nation by AM Best, the world's largest credit rating agency specializing in the insurance industry.
The Brantley Center enhances the academic experience by providing space and staff to assist students interested in the RMI program with networking, job placement, and faculty engagement. It provides students with opportunities for scholarships, international and domestic travel, and professional designation and licensing programs. The center brings industry leaders to classrooms, fosters research and faculty development, assists the insurance industry with continuing education programs, and helps educate the public about the insurance industry.
Learn more at https://insurance.appstate.edu.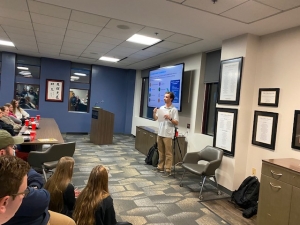 Tags: