The Brantley Center is proud to announce that one of our faculty members, Dr. Lori Medders, won the Sywassink Service Award at the Sywassink Award Ceremony on April 29th, 2021. The awards honor teaching, research and service, as well as the spirit of the Walker College of Business. The service award is based on achievements that reflect a continuing commitment to the winner's service area over time, with an emphasis on recent performance. The Sywassink Award Winners receive a monetary prize and a bronze medallion of the university seal.
Dr. Medders' engagement with risk management & insurance students extends to many extracurricular organizations. She helped the Appalachian State Spencer-RIMS team make it to the final round of only three teams in the country this semester, and has been a dedicated advisor to the AppRISE research cohort. Dr. Medders is also the Program Director of the Walker College of Business Honors Program. Dr. Medders is known for her welcoming nature and always being there to aid her students. Outside of the university, Dr. Medders is most proud of her involvement with the American Association of Water Distribution and Management.
Dr. Lori Medders joined Appalachian State University in 2017 and serves as the Joseph F. Freeman Distinguished Professor of Insurance for the Walker College. Prior to joining ASU, she was on faculty at Florida State University (risk and insurance, 2009-2017), Georgia State University (risk and insurance, 1999-2008), and Georgia Southern University (finance, 1994-1998).
Ph.D. in Business Administration, Georgia State University (1995)
M.S., Risk Management & Insurance, Georgia State University
B.S. in Commerce & Business, magna cum laude, University of Alabama (1990)
Dr. Medders served as the 2016-2017 President of the Southern Risk and Insurance Association. A business risk consultant for more than 20 years, she has experience in investment advisory, risk modeling and decision analytics, insurance coverage disputes and risk management program review.
Dr. Medders received Florida State University's Honors Thesis Mentor Award, one of only two awarded university-wide in 2017. This award recognized her efforts in directing and advising undergraduate research through the Honors in the Major program. Additionally, she was honored by the Risk Management & Insurance Review, a leading academic journal in risk and insurance, with the Best Paper Award for 2015. In summer 2010, she was invited as one of 34 researchers worldwide (only three based in the U.S.; only two from business disciplines) to an interdisciplinary Summer Institute on Disaster and Risk held at Beijing Normal University in Beijing, China. During and since the Institute, Dr. Medders collaborated on catastrophe risk research with academics in the natural and social sciences from all over the globe.Dr. Medders grew up on a hay and cattle farm in central Alabama, and is the daughter of a Methodist minister. She enjoys rock climbing, canoeing and long distance hiking.
Dr. Medders joins her fellow Brantley Center faculty members on impressive awardment from the Sywassink Awards.
Kevin Huff - 2020 Non-Tenure Track Award
Linda Meznar - previous Program specialist, 2020 Spirit of Walker Award
Jamie Parson - 2018 Service Award
Karen Epermanis - 2012 Service Award
Greg Langdon - previous associate director, 2018 Spirit of Walker Award
David Marlett - 2016 Service Award
Congratulations, Dr. Medders!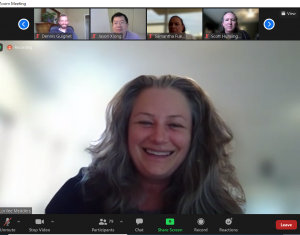 Tags: