Congratulations to our Brantley Center Team Members, Jamie Parson and Greg Langdon, for their well-deserved recognition at the Walker College 2018 Sywassink Dinner. This annual Day of Excellence Faculty and Staff Recognition Dinner is made possible through funding by Mr. G.A. Sywassink , Founder, Standard Holding Corporation and a long-time supporter of Appalachian State University.
| | |
| --- | --- |
| Dr. Jamie Parson Service Award Recipient| Greg Langdon Spirit of Walker Award Recipient | All the Recipients of the 2018 Sywassink Day of Excellence Awards |
| Assoc. Dean Sam Formby, Jamie Parson, Dean Heather Norris | Assoc. Dean Sam Formby, Greg Langdon, Dean Heather Norris |
Dr. Parson received the Service Award as acknowledgement of her many avenues of service, especially in the area of diversity and inclusion, not only to the College of Business but also at the University Level.
Mr. Langdon is the first recipient of the new Spirit of Walker award which recognizes one faculty and one staff member who most exemplify the Walker College core values and bring positive, significant recognition to the college and university. In one of the nomination letters that recounted Greg's energy, enthusiasm and commitment to the students the nominator said, "I think of Greg as Yosef's little brother."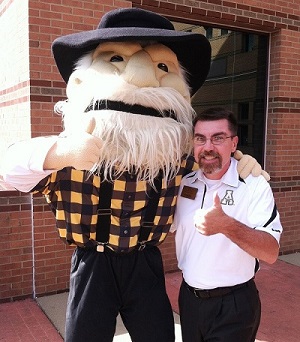 We in the Brantley Center are so proud of Jamie and Greg and feel privileged to work with them every day!
Risk Management and Insurance Faculty have a long history of Sywassink Awards. Review past winners (note 2016 and 2012) here.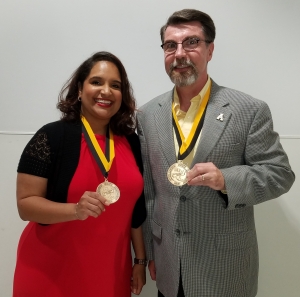 Tags: