The Gamma Iota Sigma (GIS) insurance professional fraternity and Finance Student Association (FSA) jointly hosted a Bowling Night on April 13th. About 20 Finance & Banking and Risk Management students attended this event. The event provided a great opportunity to network with fellow students, attract new members, while enjoying a pleasant social outing to round out the semester. Four Finance faculty Dr. Alex Holcombe, Dr. Justin Cox, Dr. Austin Eggers and Dr. David Marlett participated with the students.
About the Brantley Risk & Insurance Center
App State maintains the sixth-largest insurance program nationally and has been ranked second in the nation by AM Best, the world's largest credit rating agency specializing in the insurance industry.
The Brantley Center enhances the academic experience by providing space and staff to assist students interested in the RMI program with networking, job placement, and faculty engagement. It provides students with opportunities for scholarships, international and domestic travel, and professional designation and licensing programs. The center brings industry leaders to classrooms, fosters research and faculty development, assists the insurance industry with continuing education programs, and helps educate the public about the insurance industry.
Learn more at https://insurance.appstate.edu/.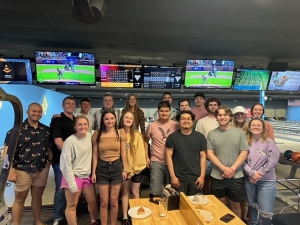 Tags: