The Brantley Risk & Insurance Center had the pleasure of participating in a student panel at the 2022 11th Mid-Atlantic Mutual Advantage Convention at the Greenbrier in West Virginia this week. Three current Appalachian risk management and insurance (RMI) majors Andrew "AJ" Miller, Mark Pruitt, Tom Phillips were joined as panelists by recent graduate and current Penn National underwriter, Hunter Grady. The session was moderated by Gen Re Senior Vice President John Stone who made sure the students felt at home by bringing in tailgating chairs and an Appalachian State cooler for the students to enjoy during their talk.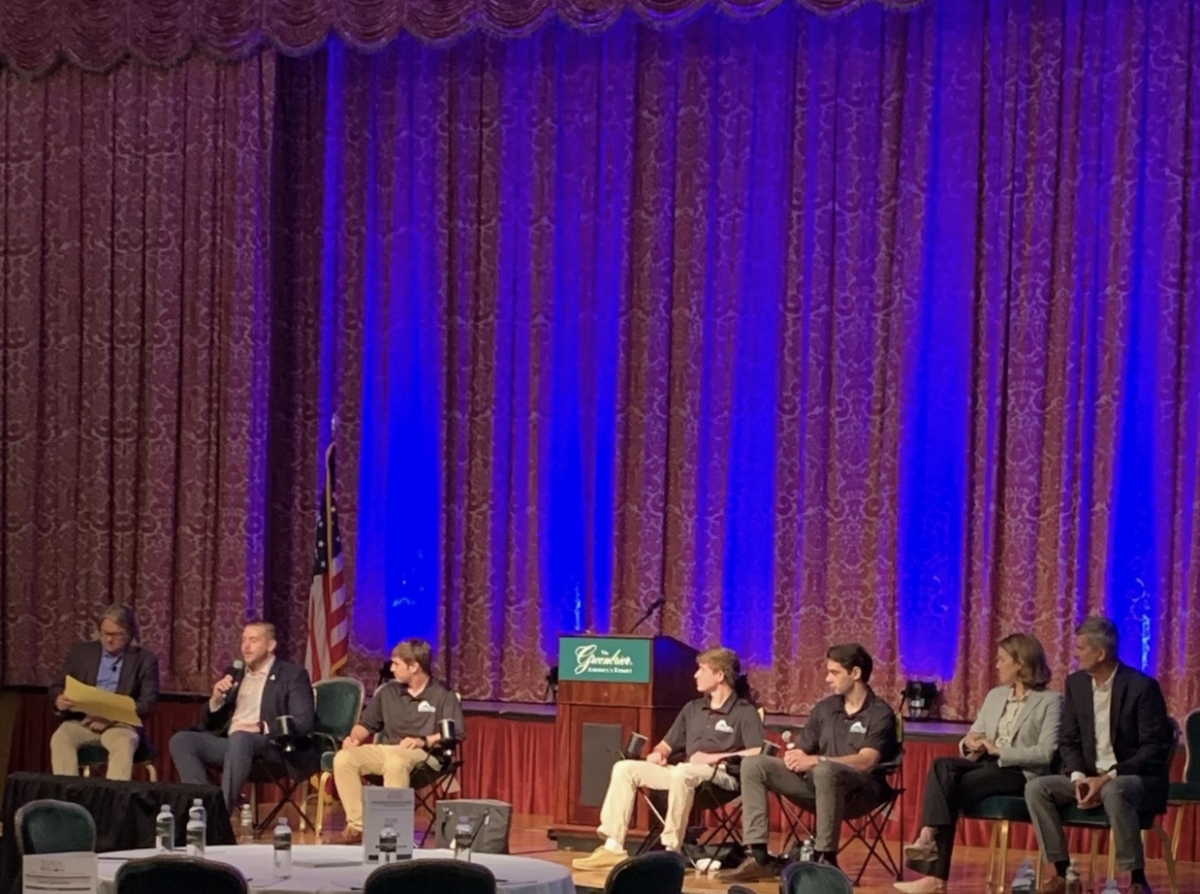 John Stone, moderator of the panel, said "It was a real honor and a ton of fun for me to moderate the AppState Risk Management Student Panel at the 115th Mid Atlantic Mutual Insurance Convention. From the initial planning discussion with these students, I knew that the panel discussion would be a great addition to the convention agenda. For the most part, the mutual insurance community has been a little reluctant to recruit from Risk Management programs, thinking that they were unable to compete for students against much larger companies & employers. Everyone in attendance learned from the Q&A with these terrific App students. The Mutual Company executives had the opportunity to describe the mission & benefits of this special industry segment and the students had the chance to reinforce how so many of the mutual company tenants match with the career goals they are seeking."
The impressive group of current students and recent graduates shared their perspective on what they are looking for in their future workplaces, the ways in which a tightly-knit workplace appeals to students seeking early-career mentorship and work-life balance, and their outlook on Appalachian State's football season prospects. In addition to their experience in the spotlight, students attended several conference seminars which deepened their understanding of the mutual insurance business and had the opportunity to network with the MAMIC, PAMIC, WVAIC, and VAMIC communities during the conference reception. They were joined by Brantley Center Managing Director, Dr. David Marlett, and Associate Director, Lacy Chesnutt for the multi-day event.
The Brantley Center would like to extend their gratitude to Becky Ferris, PAMIC Director of Education and Events, and the entire MAMIC community for their hospitality and the learning opportunity granted to these students.
About the Brantley Risk & Insurance Center
The Brantley Risk & Insurance Center enhances the academic experience of business students at Appalachian State University by providing space and staff to assist with networking, job placement preparation and contact with faculty members outside the classroom. It provides students opportunities to participate in professional designation and licensing programs and invites industry leaders to participate in classes and speak to student organizations. It also fosters research and faculty development, assists the insurance industry in the design and delivery of continuing education programs, and helps educate the public about the insurance industry. Learn more at https://insurance.appstate.edu.