Automobile insurance is the largest property and casualty line of business based on premiums written and represents a critical component of an insurance company's overall profitability, according to Dr. David Marlett, chairman of the Department of Finance, Banking and Insurance in Walker College.
That was one of many topics covered during the recent Automobile Insurance Symposium, organized by Appalachian and UNC Charlotte, and held at UNCC. It brought together experts and leaders from the Insurance Information Institute, the Highway Loss Data Institute, StreetSafe Teen Driver Safety and other groups, to discuss the pricing and regulation of automobile insurance, vehicle design and crash resistance, teen driver training and detection and prevention of vehicle theft and claims fraud.
"The auto insurance symposium was a great way to bring together industry experts and representatives to learn about insurance issues and trends alongside our future industry leaders – the risk management students," said Liz L. Reynolds, state affairs manager for the National Association of Mutual Insurance Companies' southeast region.
Students, faculty and staff from both universities as well as industry professionals were among the 160 individuals attending the symposium.
"I applaud North Carolina's universities for their efforts to educate students, members of the insurance industry and the greater public about important insurance issues. I believe we're doing a great job of preparing the next generation of insurance leaders in North Carolina," said Wayne Goodwin, North Carolina Commissioner of Insurance.
Symposium speakers comprised Dr. Bob Hartwig, president and economist, Insurance Information Institute; Stuart Powell, vice president of insurance operations and technical affairs, Independent Insurance Agents of North Carolina; Kim Hazelbaker, senior vice president, Highway Loss Data Institute; Doug Darrell, StreetSafe Teen Driver Safety; Rusty Russell, National Insurance Crime Bureau' Wayne Goodwin, Insurance Commissioner, N.C. Department of Insurance; Rep. Fred Steen II, N.C. House of Representatives; Chris Ziance, senior counsel, Progressive Insurance Corporate Law Department; Ben Huffman, UNC Charlotte student; and Ryne Herring, Appalachian student.
"The symposium, which focused on trends, safety and technology, and challenges in the N.C. auto insurance market, demonstrates the importance of industry and educational collaboration to spark discussion and engage in dialogue with current and future industry leaders," said Kim Conyers, public affairs specialist with State Farm Insurance.
Appalachian and UNCC plan to organize another insurance industry symposium within the next two years.
Funding for the symposium was provided by the following sponsors: Independent Insurance Agents of North Carolina, State Farm, Property Casualty Insurers Association of America, GEICO, Erie Insurance, Liberty Mutual, NAMIC, AAA Insurance, AMICA Mutual Insurance, Auto-Owners Insurance, Travelers and Universal Insurance Company.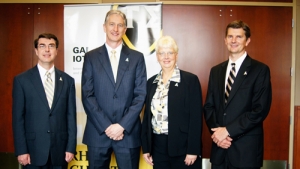 Tags: