Members of the AppRISE research cohort successfully proposed a "how to" for the university to conduct in-person graduation exercises in May. Risk management and insurance ("RMI") students Katie Cole and Matthew Scott worked with faculty lead Dr. Lori Medders to utilize their knowledge of risk assessment & mitigation to create this proposal. Many of their recommended elements will be applied for commencement.
Per their proposal which ensures compliance with distancing and facility capacity, and which allows for cleaning/sanitizing between ceremonies, multiple ceremonies will take place on May 7, 8, 10, 11 and 12 in the Holmes Convocation Center. Some of the exercises that will be implemented are:
Face coverings are required for all attendees without exception. Face coverings will be supplied to all graduates.
A limited number of guests will be allowed per graduate. This number will be announced once graduation registrations are complete, based upon state occupancy limits.
Graduates will need to acquire tickets for their guests to attend their in-person ceremony.
Seating will be arranged to ensure physical distancing is maintained among graduates and their guest pods. Each graduate's guests will sit together in pod seating.
These ceremonies will also be livestreamed. A virtual degree conferral ceremony will be available on the commencement website on May 7.
Katie Cole, a senior double majoring in finance and banking and risk management and insurance, emphasized the significance of having in-person commencement ceremonies. In Cole's words, "This project was important to me because being able to walk across the stage and shake the chancellor's hand is like the 'happily ever after' of a fairytale. To me, it represents closing this chapter of our lives and opening a clean slate. A year and a half of our college experience has been online and distant from our friends, so the ability to finalize this chapter in the presence of those who took the journey with us is something meaningful to me and Matt". Cole hopes that these ceremonies will bring a sense of normalcy to her peers and allows them to have one last "normal" college experience.
Matthew Scott, a senior double majoring in risk management and insurance and supply chain management, highlighted the importance of having in-person commencement in how it affects the individual graduating as well as their family. "The act of walking across the stage receiving your diploma is a huge achievement in the lives of many. The ability to receive my diploma in front of my family and friends is something I have been looking forward to for many years". He hopes that the in-person commencement ceremony will bring the feeling of fulfillment to all of his peers after their years at Appalachian State. Scott emphasized this achievement: "So many of my peers have been through thick and thin to receive their degree; and to have that moment with your friends and family in the crowd will mean the world to so many."
About the AppRISE Research Initiative
AppRISE stands for "Risk Initiative for Student Engagement", and it is a student research-teaching-learning opportunity and a collaboration between the Finance, Banking & Insurance faculty-students and the Brantley Center. Currently it consists of nine students and Dr. Lori Medders. This team conducts 4-5 research projects annually, and these research topics cover important issues such as sexual discrimination, cyber and supply chain risk, and most recently, COVID-19 safety and risk assessment for commencement ceremony strategies.This initiative is providing valuable experiential learning experience for the students and distinguishes the Appalachian RMI program. For more information about the initiative, please contact Dr. Lori Medders.
About the Brantley Risk & Insurance Center
The Brantley Risk & Insurance Center at Appalachian State University's Walker College of Business enhances the academic experience by providing space and staff to assist risk management and insurance majors with networking, job placement preparation, and contact with faculty members outside the classroom. It provides students opportunities to participate in professional designation and licensing programs and invites industry leaders to participate in classes and speak to student organizations. It also fosters research and faculty development, assists the insurance industry in the design and delivery of continuing education programs, and helps educate the public about the insurance industry. Learn more at https://insurance.appstate.edu.
Appalachian's Risk Management & Insurance Program is the sixth-largest in the country according to Business Insurance magazine. The college's Brantley Risk and Insurance Center, founded in 1988 with support from the Independent Insurance Agents of North Carolina, supports research and faculty development, assists the insurance industry in the design and delivery of training and continuing education programs, and facilitates interaction between students, faculty and the professionals in the insurance industry. Appalachian is designated a Global Center of Insurance Excellence by the International Insurance Society.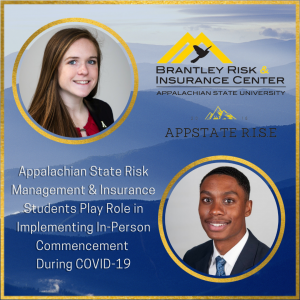 Tags: