Appalachian State University's Risk Management and Insurance (RMI) program has been ranked second in the nation by AM Best, the world's largest credit rating agency specializing in the insurance industry. The organization included 48 schools in its publication 2022 College Standouts. The rankings were based on survey results from carriers, readers and other insurance professionals, aiming to learn which RMI programs are doing the best job preparing students for careers in the industry. "We have incredible RMI alumni who are doing great work in the insurance industry," said Dr. Sandra Vannoy, interim dean of the Walker College of Business, which houses the department, its Brantley Risk & Insurance Center, and the RMI major. "This honor is not only a reflection of the excellent work of our faculty and staff, but also of our highly engaged Walker College of Business alumni network." Of the 399 votes cast, App State earned 49, or 12%. Eastern Kentucky University earned 17% of the votes.
2022 Top Ranked RMI Programs by AM Best
Eastern Kentucky University

Appalachian State University

Olivet College

Florida State University

University of Wisconsin-Madison

California State University, Fullerton

University of Georgia

University of Alabama

Temple University

St. John's University
A total of 48 schools received at least one vote. See the complete list.
A Regional Powerhouse
The results "continue to show a shift toward a Southeastern regional allegiance," according to Best Review's Managing Editor Tom Davis. "When someone comes to Boone, it's intentional," said Dr. David Marlett, Managing Director of the Brantley Risk & Insurance Center. "Given our location, we have recruiters from the Carolinas and Virginia, but they also come from the Northeast, Midwest, Florida, even Arizona." App State is a special combination of people and place, as it is set in one of the country's most beautiful scenic locations in the Blue Ridge Mountains. Despite its remote location, the university and its business students benefit from regular interaction with industry professionals through well developed, co-curricular programming opportunities. "The students are well prepared academically but they also have experience attending industry events, have learned soft skills of how to interview, how to communicate effectively, etc.," said Jeff Haney, president, ECM Solutions, an independent insurance agency in Charlotte, North Carolina. UNC System sister institutions University of North Carolina at Charlotte and East Carolina University also earned votes.
About the Brantley Risk & Insurance Center
The Brantley Risk & Insurance Center supports App State's insurance program by increasing the level of student involvement with the insurance industry and providing a vehicle for further interaction through continuing education programs, executive-in-residence appointments, internships and placement of graduates in the industry. As part of its co-curricular program, the center coordinates dining etiquette for its RMI majors, which AM Best's review highlighted. "[App State] boasts a dining etiquette component… students learn everything from setting the table to how to handle alcohol." "At networking receptions, there is often alcohol," Marlett said, adding that students learn the answer to this question: "'If you choose to drink, what is appropriate for the situation?' You don't get the one with the umbrellas or something complicated," he said. "Have your one go-to grown-up drink. Instead of getting hard liquor every time, mix it up. Get a drink, and then have a couple of tonics or sodas. Nobody's going to know the difference." Etiquette is just one facet of the formula Marlett and team uses to ready its students for career success, their primary goal. "We help students find full-time jobs and internships," said Marlett. "Our assistant director's primary mission is to connect students with employers." The 2022 survey is the third Best's Review of RMI programs — App State also made the list in 2018 and 2020.
About the Brantley Risk & Insurance Center
The Brantley Risk & Insurance Center enhances the academic experience of business students at Appalachian State University by providing space and staff to assist with networking, job placement preparation and contact with faculty members outside the classroom. It provides students opportunities to participate in professional designation and licensing programs and invites industry leaders to participate in classes and speak to student organizations. It also fosters research and faculty development, assists the insurance industry in the design and delivery of continuing education programs, and helps educate the public about the insurance industry. Learn more at https://insurance.appstate.edu.
(Article taken from Walker College of Business news)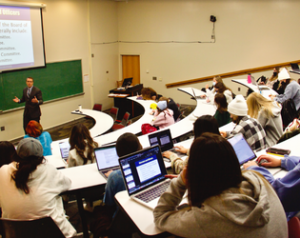 Tags: