In normal years, the International Insurance Markets class would be traveling to London to visit AmWINS Global Risks in-person. The annual trip, organized by the Brantley Risk & Insurance Center, provides students with a context for understanding the international insurance markets through visits to insurance organizations like AmWINS and as well as invaluable professional development opportunities.
This year, with international travel made impossible due to COVID-19, AmWINS Global Risks virtually hosted the students in its London office, helping students to better understand global specialty insurance. Josh Ammons, Brantley Board member and Executive Vice President located in the AmWINS Charlotte, helped to organize the event. Nate Mathis, COO, and Sindy Wade, Communications Assistant, of AmWINS Global Risks were also instrumental in making the international virtual experience a possibility for the students.
AmWINS Global Risks looks forward to hopefully being able to host the Appalachian State group in-person in the 2022 Spring Semester.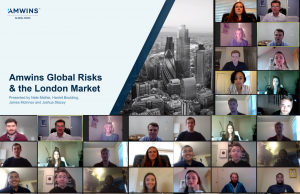 Tags: