The GIS student group welcomed Hollis Zyglocke, CPCU, Markel to AppState to make a presentation during one of the spring semester "Speaker Series" events. This series is meant to expose students to a variety of insurance topics and offer them the opportunity to see different career paths while networking with industry professionals. Hollis shared her experiences in the Specialty Carrier side of the Insurance Industry, while also sharing general career advice and knowledge. This is the final installment of the ``Speaker Series" event for the semester. We are grateful to have had so many dynamic speakers join us this semester.
About the Brantley Risk & Insurance Center
App State maintains the sixth-largest insurance program nationally and has been ranked second in the nation by AM Best, the world's largest credit rating agency specializing in the insurance industry.
The Brantley Center enhances the academic experience by providing space and staff to assist students interested in the RMI program with networking, job placement, and faculty engagement. It provides students with opportunities for scholarships, international and domestic travel, and professional designation and licensing programs. The center brings industry leaders to classrooms, fosters research and faculty development, assists the insurance industry with continuing education programs, and helps educate the public about the insurance industry.
Learn more at https://insurance.appstate.edu/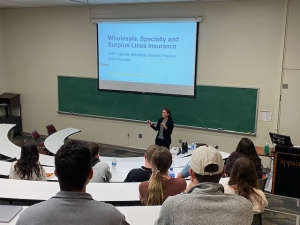 Tags: