RMI Career Fair - Recruiter Information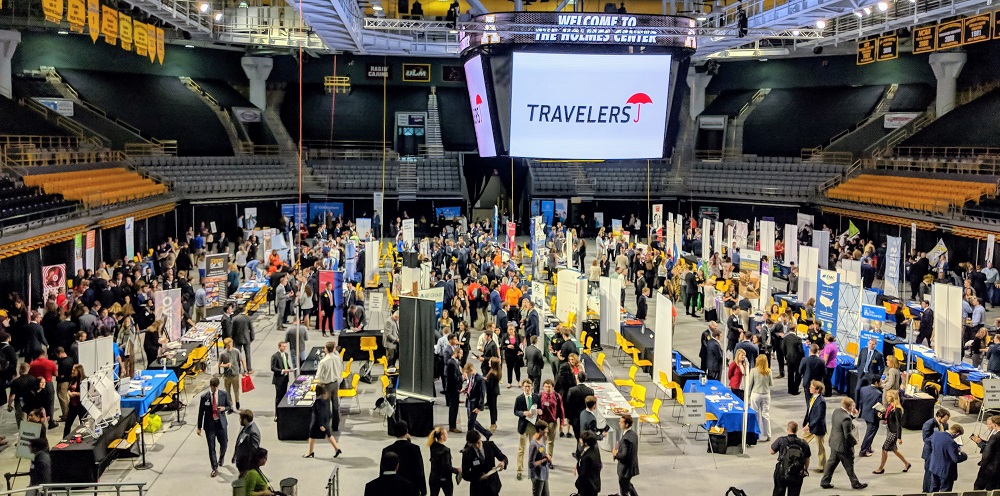 Looking for the best RMI talent? Look no further than Appalachian State!
Every fall and spring semester, the Brantley Center hosts a very well-attended career fair. Since Spring 2018 the Brantley Center has partnered with the Walker College of Business to hold the Career Fair in the Holmes Convocation Center. The RMI Career Fair educates students about careers in the industry and facilitates recruiting for both professional positions and summer internships. There are currently 200+ Risk Management & Insurance majors at Appalachian and a large percentage of our majors will have successfully completed a summer internship in the insurance industry prior to graduation.
Spring 2019 RMI Career Fair at Business Connections is on March 21, 2019 in the Holmes Convocation Center, with next day on-campus interviews in Peacock Hall on March 22.
Career Fair Registration Options
Hotel Information
LaQuinta Inn & Suites Boone
165 NC-105 Extension, Boone, NC 28607
828-2621234
Individuals are responsible for payment of hotel accommodations.
A corporate rate of $89/night is available when you use Promo / Corporate Rate Code: ASU - Walker Spring Connect
Book Now
Employer Career Fair Parking (Thursday)
Please park at the Rivers Street Parking on campus. As participants enter the parking garage you'll press a button for a parking stub and the gate will lift. Parking will be allowed anywhere within the parking deck. Parking details will be provided at check-in.
Shuttle Transportation (Thursday)
For Students: Shuttles will run from Peacock Hall (circle) to Holmes Convocation Center continuously from 12:30 - 4:30.
For Employers: Shuttles will run from Rivers Street Parking Deck to the Holmes Convocation Center every 15 minutes from 8:30 am to 5:00 pm. Materials can be dropped off at the Ticket Office entrance located on the Hill Street side of the Holmes Convocation Center and then proceed to park at the Rivers Street Parking Deck.
Employer Next Day Interview Parking (Friday)
Please park at the Peacock Lot located adjacent to Peacock Hall. (Noted as #69 on map)
416 Howard Street
Boone, NC 28608
A parking attendant will be present upon entrance to the parking lot. You will receive your parking pass at that time to display in your vehicle.
* Please contact Greg Langdon at langdongm@appstate.edu or 828-262-6179 with questions or concerns.
If you need to ship items for the RMI Career Fair, our physical address is:
Brantley Risk & Insurance Center
Attn: RMI Career Fair
Peacock Hall #3053, ASU
416 Howard Street
Boone, NC 28608
NOTE: Please include the pre-paid package return paperwork (from UPS, FedEx, etc.) to aid us in the prompt return of your display materials. Call us at (828) 262-6950 with any questions. Thanks!
---
Agent's Guide for Internships
Click here for the Agent's Guide for Internships (PDF, 520 KB)